Summer is my favorite season. So many opportunities to be creative in our fashion combinations. Warm weather always gives me positive and creative energy. I was thinking about what to write today and what to present to you, and the choice fell of slip dresses. There can be no mistake with them and I'm glad they're in trend. They are perfect for summer, and also for festive occasions. One thing is for sure, you will surely be very glamorous and look elegant and feminine. Let's start with the suggestions.
1. Floral slip dress
With a floral print during the summer, you will never go wrong. Take a look at this picture of the dress. It looks so luxurious and expensive. If I saw a woman dressed like this I would surely turn to her and ask her where she bought the dress. Floral dresses, one-color accessories, bags, and shoes fit best. Anything beyond that would be too much. Moderate jewelry creates a dose of elegance. I love slip dresses, when I don't know what to wear, they are always my choice! This choice of dress is also great to wear during the day.
2. Nude slip dress
Nude never goes out of style. Especially in summer, when our complexion gets a nice color, the offer really comes to the fore on our body. Imagine this dress, with such simple sandals and big midi. So simple, yet so sexy. Sometimes I follow that saying, less is more. In this case, totally. Do you wear nude colors often?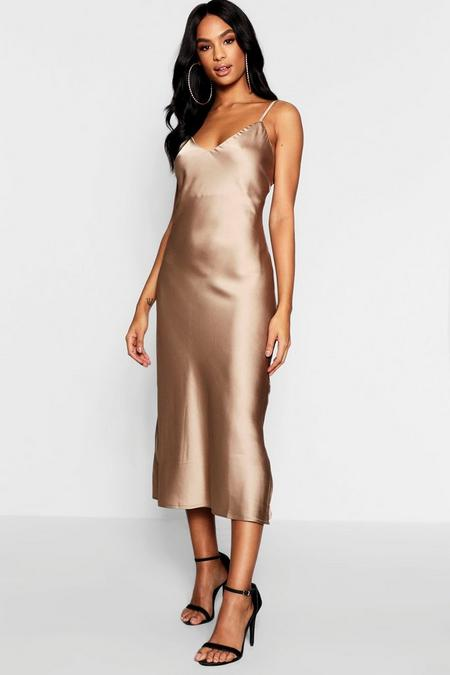 3. Black mini slip dress
Black is black, there is nothing wrong with it. As the above suggestions were with midi dresses for some more formal occasions, this mini slip dress is perfect for summer parties. Or some romantic dinner by the sea. You literally don't need any of the extras. This suits everyone well. I think most girls are very happy to opt for this combination. If we play it safe this is the perfect solution.
4. White slip dress
My first association is walking by the sea in this dress. The white color is ideal for summer. Like this choice of dress. The slice makes the look a little more challenging, the dress is relaxed but looks very nice. The model is such that you will surely be comfortable in it. This color and model of dress goes great with white sneakers. What do you think? How would you combine this slip dress?
5. Velvet slip dress
I love velvet, it is so nice and soft. When I'm in it I feel so sexy, full of confidence. We know that green is in trend this year. So the green slip dress is something a little different, which will surely set you apart from the mass of girls. In my opinion, this is very elegant, and with a few steps, you will look like from the red carpet. The outfit is very glamorous. The dress is tight, emphasizes the shapes, and the length is midi, because of the neckline, I think this length of the dress is the best.
6. Leopard slip dress
This is a little different. For very brave girls. I know girls have been crazy about the leopard print for a few years now. In this outfit, I imagine a unique girl. When it comes to footwear, just like in the picture, bikers give a dose of relaxation to the whole outfit. You can wear it just like this, with a white T-shirt underneath, or without a T-shirt. A great choice is a leather jacket over. Relaxed, and very chic. Which of these dresses do you like the most? Do you often wear slip dresses and on what occasions?