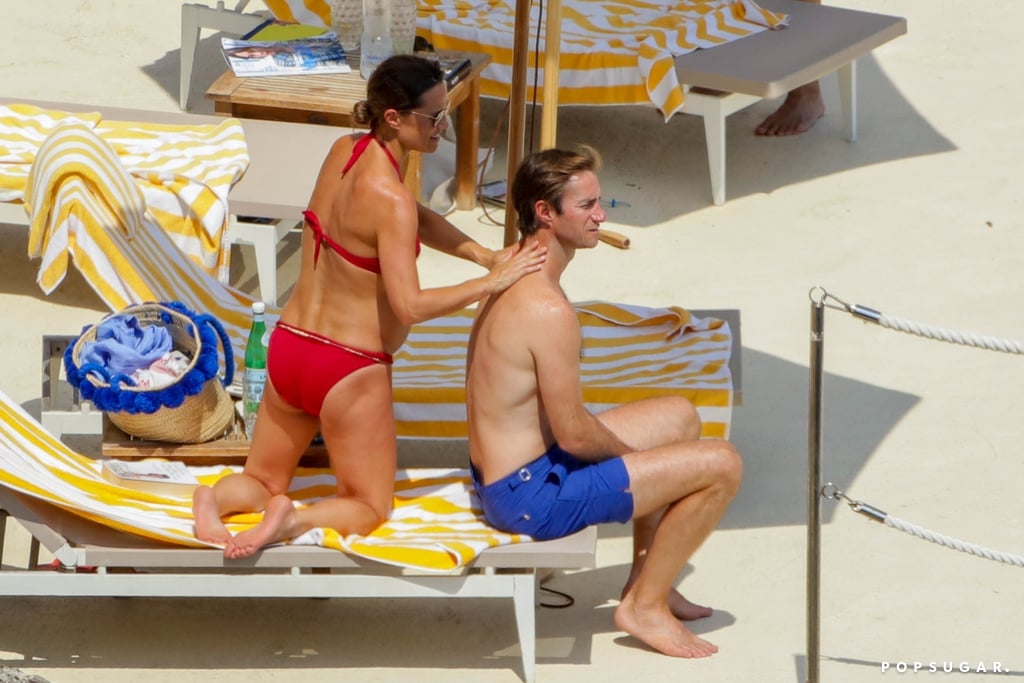 Pippa Middleton looked incredible in a red bikini as she vacationed in Tuscany with husband James Matthews this week. On Wednesday, the couple were spotted on the Italian coastline relaxing on beach chairs, reading the newspaper, and soaking up the sun. James even dutifully helped Pippa slather sunscreen on her back, and Pippa showed her sporty side as she and James swam laps together in the ocean.
Pippa and James tied the knot last May and are expecting their first child; the 34-year-old confirmed the exciting news in June with an essay about keeping fit during her pregnancy. "I'm fanatical about sport and have looked at loads of books and websites on exercise during pregnancy but have been disappointed by the limited technical information on what you can and can't do," Pippa wrote. "I've noticed my body change, but through exercise, I feel like it's being strengthened."
James and Pippa's Italian getaway could in fact be a babymoon, as they are rumored to become parents in early October. Pippa's due date will likely be the reason Kate Middleton doesn't attend Princess Eugenie's wedding on Oct. 12 — nothing can come between a sisterly bond, especially when one sister is becoming an aunt for the first time! Keep reading to see Pippa's growing belly in a bikini, then check out more of the year's best swimsuit moments.