Anyone can look through a Swimwear boutique bathing suits catalog and buy a bathing suit with a top and a bottom that's the same color and style. However, when you want to get creative, and mix and match your swimwear pieces, you can quickly learn these eight tips that will save you time, while making your selections look stunning on you. In addition, since you're not just buying a ready-made suit off the rack, you're more likely never to see another female wearing the exact suit that you just purchased after mixing and matching the pieces.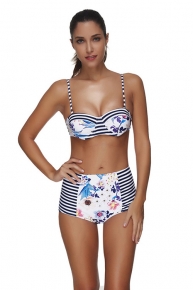 Since Brazilian bikini swimwear focuses on showing a woman's physical attributes, these eight tips will help you mix and match to your heart's content.
1. Mixing and matching is not just about matching a specific color or pattern to another piece. You must determine your body shape according to four body types-hourglass figure, apple shape, triangular shape, and an athletic-looking figure, and then you can choose which piece makes you look the best.
2. Choose tops and bottoms that fit you comfortably. If the top you've chosen fits snug and makes your upper body look good, then you'll want to select a bikini bottom that complements the style of the top.
3. Select solid dark colors when you need to slim a portion of your body. If you have a large bustline, then choose a dark color for the top and a lighter color for the bottom. Likewise, if you wish to create a slimming effect for your tummy and backside, then select a dark color for the Brazilian bikini bottom, and a lighter color for the top.
4. To hide or conceal tummy bulges, choose a solid print Tankini for the top, since it doesn't cling and looks free flowing. Or, you can choose a halter top bikini with a pattern on it, to draw the attention away from your hips or lower body bulges.
5. To add emphasis to your bustline and make it appear larger, choose a top with horizontal lines or ruffles. In addition, you might also wish to buy a top with extra padding in the cups to make your busts appear bigger.
6. For an added creative effect, you can match a string bikini bottom with a Tankini top. This combination works well, too, for pregnant women. They can still wear a bikini, but their enlarged stomach is concealed with the Tankini's extra fabric.