Your wedding day is one of the most important days of your life, and looking your best is essential. Bridal beauty encompasses everything from finding the perfect wedding dress to choosing the right hairstyle and makeup. This guide will provide you with tips and advice on how to achieve the ultimate wedding day look. From the dress to the accessories, we will cover everything you need to know to make your wedding day successful.
Finding the Perfect Wedding Dress
Start early: Begin looking for your wedding dress at least 6 to 12 months before your wedding day to allow time for alterations and fittings.
Consider your wedding venue: Your wedding location can influence your dress choice. For example, a beach wedding may require a lighter, more flowy dress, while a ballroom wedding may require a more formal and structured one.
Think about your style: Choose a dress that reflects and makes you feel confident and comfortable.
Consider your body type: Choose a dress that flatters and accentuates your best features.
Don't be afraid to try on different styles: Even if you have a specific style, try on various dresses to see what looks best on you.
4 Designs of Bridal Fashion on the Wedding Day
There are countless styles and designs for bridal fashion, including classic elegance, bohemian chic, glamorous sparkle, and modern minimalism. Ultimately, the perfect dress will depend on personal style, the wedding theme, and the overall vibe the bride wants to create. There are countless styles and designs of bridal fashion to choose from on the wedding day, but here are four popular options to consider:
Classic Elegance:
A classic wedding dress is timeless and sophisticated, with clean lines, delicate lace or satin, and minimal embellishments. This style is perfect for a traditional wedding ceremony and can be paired with elegant accessories like pearl earrings and a simple veil.
Bohemian Chic:
A bohemian wedding dress is free-spirited and relaxed, with flowing fabrics, floral embroidery, and unique details like bell sleeves or a lace-up back. This style is perfect for an outdoor or bohemian-themed wedding and can be paired with a flower crown or a pair of delicate sandals.
Glamorous Sparkle: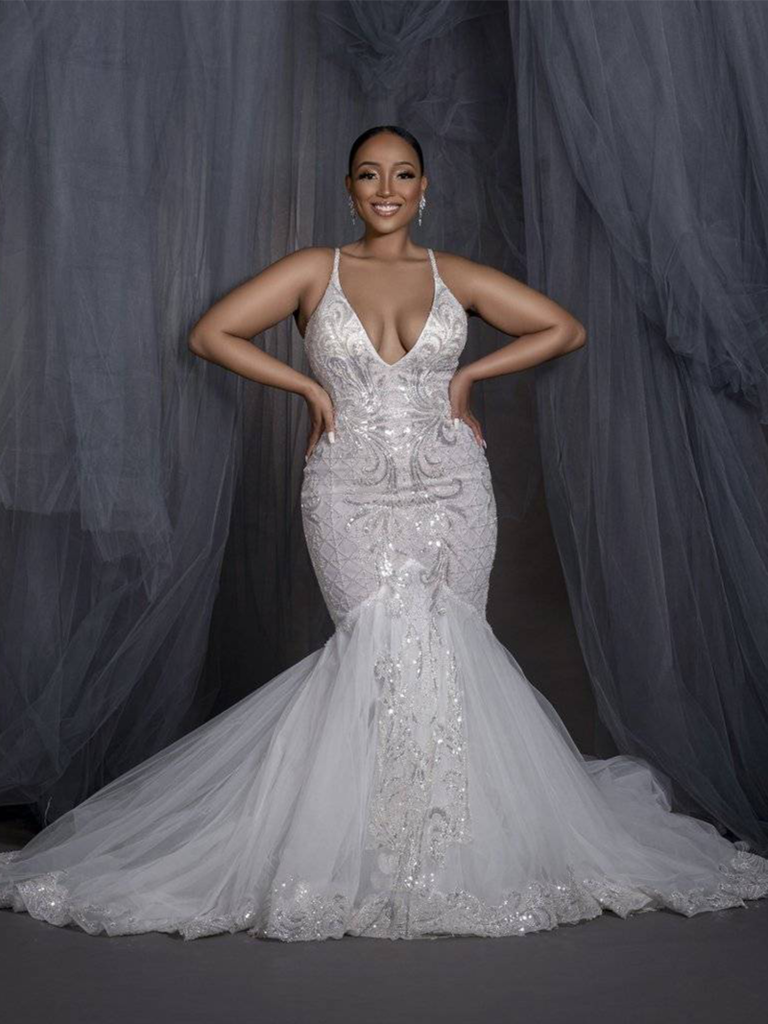 A glamorous wedding dress is all about the bling, with beaded or sequined details, a plunging neckline, and a dramatic train. This style is perfect for a formal evening wedding and can be paired with a sparkling necklace and statement earrings.
Modern Minimalism:
A modern wedding dress is sleek and understated, with clean lines, simple silhouettes, and minimal embellishments. This style is perfect for a contemporary wedding and can be paired with minimalist accessories like a sleek updo and a pair of bold earrings.
Ultimately, the perfect bridal fashion design for your wedding day will depend on your style, your wedding theme, and the overall vibe you want to create. Take the time to try on different styles and designs until you find the one that feels perfect for you. And remember, no matter what dress you choose, the most important thing is that you feel confident and beautiful on your special day.
Skincare and Beauty Treatments For Bride
Achieving healthy, glowing skin is crucial for any bride-to-be. Here are some suggestions for skincare routines to help achieve this goal before the wedding day:
Cleansing: Cleanse your skin twice daily with a gentle cleanser to remove dirt, oil, and makeup.
Exfoliating: Exfoliate once or twice weekly to remove dead skin cells and unclog pores. This will help to make your skin look brighter and smoother.
Moisturizing: Moisturize your skin daily with a moisturizer that suits your skin type.
Sun Protection: Protect your skin from the sun by using sunscreen with SPF 30 or higher.
Facials: A facial is a beauty treatment that involves deep cleansing, exfoliation, and skin hydration. This treatment can help to improve skin texture and tone, reduce blemishes, and minimize the appearance of fine lines and wrinkles.
Massages: A massage is a relaxing and therapeutic beauty treatment that can help to reduce stress, improve circulation, and detoxify the body.
Manicures and Pedicures: Manicures and pedicures are beauty treatments that involve grooming the nails, softening the skin, and applying nail polish. These treatments can help improve the appearance of the hands and feet, which are often displayed during the wedding ceremony.
Conclusion
In conclusion, achieving the ultimate bridal beauty on the wedding day requires planning and preparation. In this article, we discussed the importance of skincare and beauty treatments and some popular bridal fashion designs. To achieve healthy, glowing skin before the wedding day, it's essential to maintain a regular skincare routine that includes cleansing, exfoliating, moisturizing, and sun protection. Pre-wedding beauty treatments such as facials, massages, and manicures can also help to improve skin texture and tone.