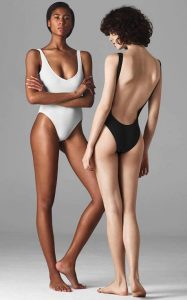 I don't know about you, but my plastic guilt is is racking up. Buying a takeaway iced coffee feels tantamount to chain smoking outside a maternity unit. And with looming holidays, near pretty oceans, which as we all now know (thanks, Attenborough) are full of nasty little plastic beads and who knows what, I feel awkward about popping myself on a err, plastic lilo and taking advantage of those cooling lapping waves, full of fish choking to death on our detritus.
It's got me thinking, what can I buy to make me feel better about all of this? Ladies, may I introduce you to a fabric called Econyl which very cleverly is formed from oceanic waste material – fishing nets, fabric scraps and industrial plastic. It aims to acheive the very necessary concept of turning fashion into a sustainable cycle, which as an industry, is horribly far away from being. However, small steps make for big strides eventually. One can hope.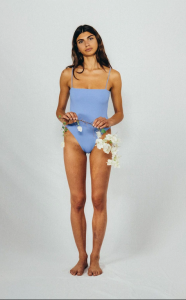 This fabric – technically a regenerated nylon – is being used by designers with an encouraging ethical agenda. Neatly, it works very well in swimwear products. There are happily many brands cropping up, creating not only stylish cossies, but made from this clever stuff too. Auria London, which does a very good high waisted bikini knicker, has been going since 2013. It's strapline, "From the sea, for the sea" is helping assuage some of the guilt I'm harbouring over the giant unicorn I'm planning on floating on around the Med shortly.
Devon-based swim line Davy J, has solved a tight conundrum – can one look chic wearing a swimsuit designed to actually swim in? The answer, is very much so. I'm rather into it's classic black (runs from size 8-18 and the fit is excellent) and red designs, with smart cross detail at the back (also has nifty bikinis if you are the type) and are specifically created for open water swimming – suits are double lined with a high elastane composition for extra strength and durability.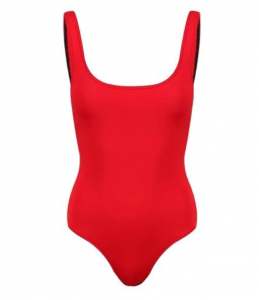 Also of note: All Sisters, a Barcelona originated label with an eco-conscious outlook and a very sleek, polished look. And, Ohoy Swim – full points for a snappy brand name – which does an array of classic but cool shaped swimsuits and bikinis in pretty block colours, helmed by two Scandinavian women based in Dubai. You might have noted that I've stuck to simple shapes and hues, whilst there are a lot of flouncy swim-types around this summer, personally I'm feeling something a little more pared back. But do add a flighty shoe or kimono over the top for fun. I will be.