On Monday evening, Rita Ora uploaded a picture of her enjoying the sunset in a sparkly orange bikini.
The 27-year-old captioned the pic, "Lady Stardust." As of Monday, the pic had garnered over 150,000 likes, with fans commenting things like "Wow look stunning " and "LOOK good love." With over 13 million followers on Instagram, the post is bound to get a lot of love.
It's unclear exactly where Ora took the picture. On Sunday, however, she posted a snap posing in front of a plane at an airport in Varna, Bulgaria. The caption on the pic read, "Malta I'm coming for ya."
Two days prior, she posted a photo from Sardinia. She singer has clearly been on the move.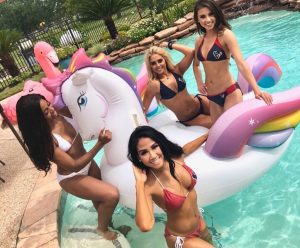 Ora recently made headlines after Cara Delevigne shared a very racy snap chat of the pair. The photo, which was featured on Delevigne's Instagram story as part of her 26th birthday celebration, showed Delevigne licking her check, while she wore nothing but a shirt made out of Glamour tape.
She also caught the world's attention after uploading another bikini that showed off her toned body in a one-piece bikini.
Ora, a British singer and actress, was born in Yugoslavia to Albanian parents. Her mother is a psychiatrist and her father is an economist. In 2007, Ora appeared in Craig David's song, "Awkward". In 2008, she was part of the song "Where's Your Love", by Tinchy Stryder.
One year later, the artist auditioned for Eurovision: Your Country Need You and qualified. Eventually, however, she pulled out of the competition, saying she did not feel ready to compete. After relocating from West London to Kosovo as a teenager, Ora says she "inhaled" British music. "I used to be obsessed with punk," she says, "and then I used to be a grime kid, because that's my culture. I came from the block, so grime would be in our blood."