There are many different styles of Sexy Bikinis Swimsuits you see while strolling along the beach, but it's the ones that make you do a double take that worth talking about. Below you will find some of those neck turning styles you should definitely look out for this season.
Ruffled bikini
A ruffled bikini can take an ordinary two piece and instantly give it some flare. The ruffles are a popular trend this year, from subtle ruffles on the bust to an entire bottom decked in them. The possibilities are endless! And if worn appropriately, this style can really help to enhance or elude your problem areas.
If you have a smaller bust and want to give yourself instant volume, the ruffled bandeau is a perfect choice. This style gives off the same illusion as padded swimwear, which is great for those of you that want a visually larger chest. The ruffled bikini also works for the curvier woman too. Wearing a thick bottom with ruffles at the waist line can bring in the hips and give you that hour glass shape you've always wanted. And if you are top heavy, a ruffled bottom will help to balance out your figure.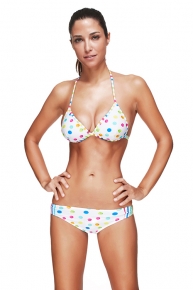 Sports Bikini
Sportier swimsuits are also a big trend for this year, especially in the collegiate industry. Suits like this are sure attention grabbers and a bit hit with the men. Guys get a kick out of girls sporting their favorite teams gear but in a hot and sexy fashion. Wearing team specific merchandise is also a great way to strike up a conversation and meet other proud fans with your similar interests. The innovative designs incorporate fashion into sportswear, a rarity in today's sports apparel market
Crochet bikini
Fashion trends from the past are slowly coming back in style for swimwear. Last year it was all about the 80s with neon colors. This year, it's all about the 70s, including more earthy tones and yes, the ever sexy crochet bikini. It's an instant attention grabber, creating sex appeal and giving the illusion that there is more to see than meets the eye. At first glance, the crochet bikini may seem like it's not for everyone with its "reveal all" look. On the contrary, it actually helps hide all flaws you may have on your body. The wide stitching grabs more attention, which distracts from any unwanted curves you may have.
Vintage Bikini
Older trends such as the classic 1950s bikini are also coming back this year, playing in to the curvaceous and sexy woman. The vintage style includes cinched-in waist lines, sweetheart tops and high waist bottoms, all which flatter a more voluptuous figure. Embracing the vintage style will do wonders for your body. The high, cinched-in waist bottoms really bring in the hips and make you look curvy, in all the right ways. You won't have to worry about looking bottom heavy; it will accentuate your curves and maintain that sex appeal. The high waist bottoms are also great for your legs. If you're a little shorter, the cut will make your legs seem longer, and if you're already tall, it will just enhance your lengthier body. Sweetheart tops are perfect if you have a larger bust. Playing in to your curves definitely works to your advantage when it comes to swimwear and this top will definitely help. It gives you enough support in the chest, while still creating those curves.