There have been belfies, thigh brows and more bikini pose crazes, but this one, called the 'bambi' pose has never gone out of style! Bella Hadid, Gigi Hadid, Kendall Jenner and more sexy celebs have taken to Instagram show off their amazingly toned bikini bodies in the kneeling position this summer! Bella Hadid kicked off the trend with her sultry pic while vacationing with friends after her Victoria's Secret Fashion Show debut in 2016. She posed on the sandy beach in the kneeling position, rocking a black crocheted bikini with her salty beach hair in her face. Could she get any hotter?! On the same trip, she and her model girlfriends all kneeled and posed for the camera in their tiny bikinis, making us totally envious of their perfect bikini bods!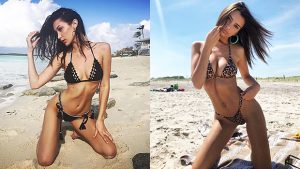 Similarly, in Summer 2016, Kendall, Bella and Hailey Baldwin kneeled in the sand while looking out at the water, while a photographer captured them from behind and their perfect bottoms! When that pic was taken, the girls were on vacation celebrating Kylie Jenner's 19th birthday, and the youngest Jenner has some sexy kneeling pics of her own! Long before she was the mother to Stormi, Kylie shared a super hot pic of herself in a strappy black bikini, kneeling on the floor, showing off her rocking bod in the swimsuit. The selfie angle she used was also recently recreated by Rosie Huntington-Whitley, who looked absolutely magnificent in a red bikini, just one year after giving birth to her son, Jack. Her taut abs were enviable from every angle and we think she absolutely nailed the 'bambi' pose!
Of course, you can't forget bikini queen Emily Ratajkowski, who stunned in a leopard bikini on the beach while kneeling and showing off her perfect assets! We hope you're enjoying summer as much as she seems to be — rocking those barely there bikinis on beaches around the world!