Long skirts are a classic and stylish option for summer dressing that lets you show off your individual flair while yet feeling comfortable. However, wearing long skirts in the summer without perspiring can be difficult due to the heat and humidity. Be at ease! In this post, we'll walk you through some pro advice on how to stay cool and look great while wearing long skirts in the sweltering summertime.
Choose Lightweight Skirts with Plain Tops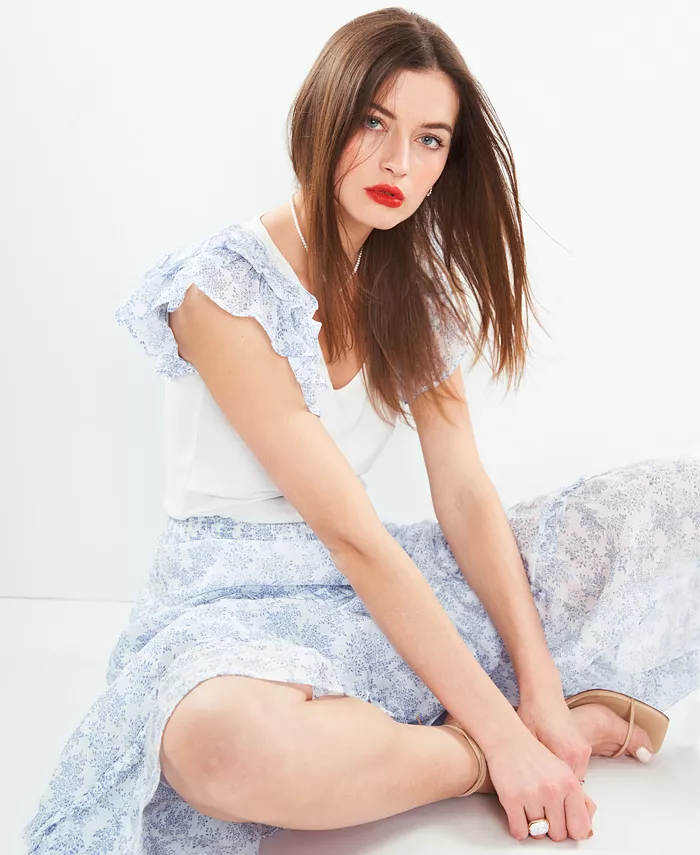 Women's Floral-Print Tiered Pull-On Maxi Skirt
When selecting long skirts for summer, prioritize lightweight and breathable fabrics such as cotton, linen, chambray, or rayon. These fabrics promote airflow, which prevents sweat from building up on your skin. Wool and other heavy textiles should be avoided since they might trap heat and cause discomfort.
Opt for Flowy Silhouettes with a Crop Top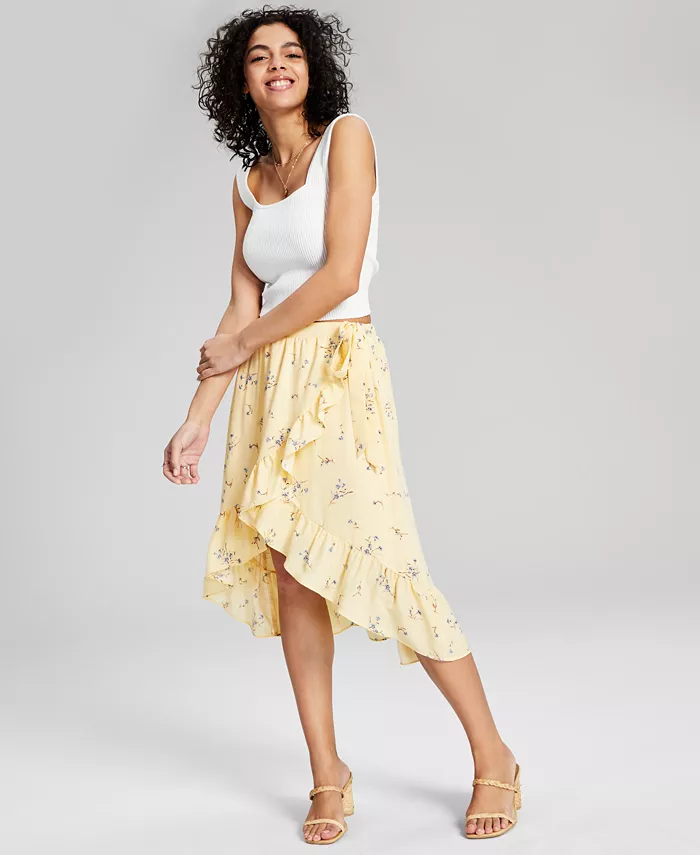 Women's Ruffled High-Low Midi Skirt
Loose, flowy skirts not only exude a bohemian vibe but also promote better airflow, keeping you cool in the summer heat. For warmer days, loose-fitting skirts with an a-line, maxi, or flared shape are ideal. Avoid wearing clingy or tight-fitting skirts since they can limit movement and make you perspire more.
Embrace Light Colors and Opt for Monochromatic Look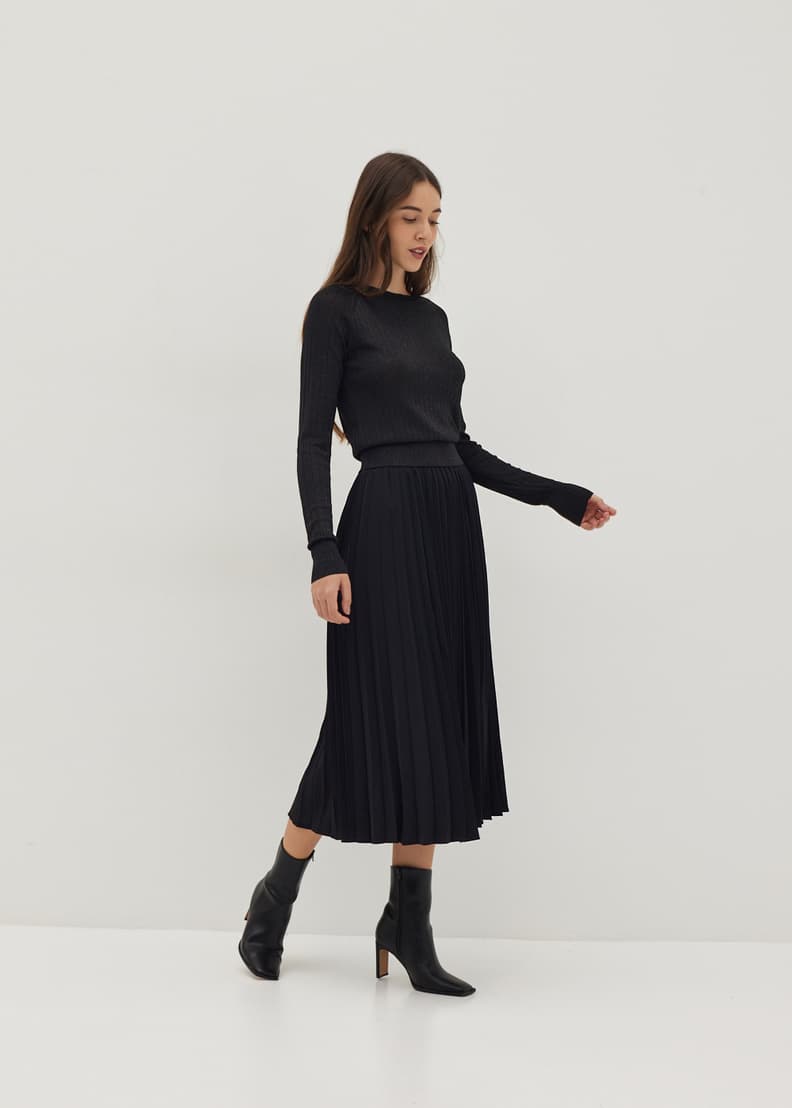 Light-colored skirts reflect sunlight, helping to keep you cool. Choose lighter colors that won't absorb heat as much as darker ones, such as pastels, whites, or soft tones. Also keep in mind that lighter colors are usually more adaptable, allowing you to use your skirts with a wider range of shirts and accessories.
Consider Slits and Ventilation with Matching Top
Skirts with slits or ventilation details are an excellent way to add style and airflow simultaneously. Look for skirts with front or mesh panels, high-side slits, or both. These design features not only keep you cool but also provide you a chance to show off your legs and give your clothing a more feminine touch.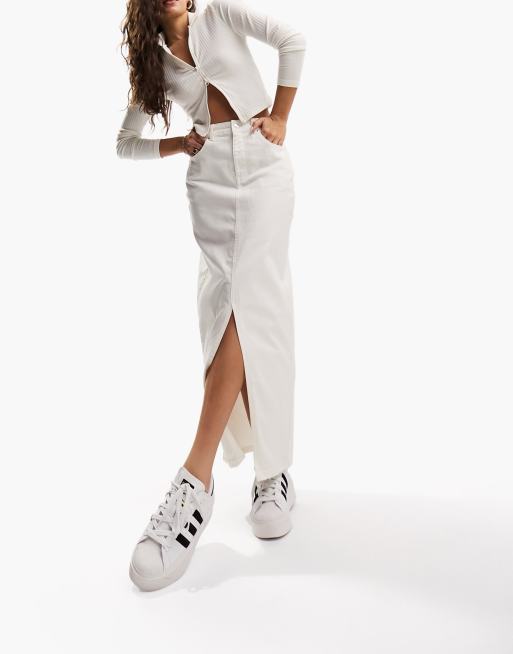 ASOS DESIGN Hourglass denim midi skirt with split hem in ecru
Layer Wisely
Even if you're wearing a long skirt, layering is still possible without sacrificing comfort. For your tops, choose airy, lightweight materials like loose-fitting blouses or silk or cotton camisoles. To add style and protection from the sun, think about wearing a light cardigan or kimono over your attire.
Choose the Right Length for Both Your Skirt and Top
When selecting long skirts for summer, pay attention to length. Skirts that are too short or skim the floor risk trapping heat and restricting movement. Choosing a long skirt that doesn`t flatter your body type or height can go wrong in different ways. Ensure that you consider your body proportions in choosing which length of skirt and top to wear. Choose skirts that hit slightly above the ankle or at mid-calf. While keeping you cooler and enhancing movement, this length creates a mix between style and utility.
Breezy Accessories
Accessorizing can enhance your summer outfit while keeping you cool. To protect your face from the sun, choose hats with wide brims or straw hats. Add a lightweight scarf made of breathable material for a splash of color and wind protection. Don't forget to pack a chic tote bag to hold your summer needs and a pair of sunglasses to protect your eyes.
Men's New York Yankees New Era Black 2023 59FIFTY Day Fitted Hat
Skirts can often look dressy so if you want to dress down, wearing a sports cap can help you achieve a well-dressed but dressed-down look. Although quite spontaneous, caps can actually transform your outfit into something more wearable and casual.
Choose Breathable Footwear
Hearts and Hashtags White and Tan Flat Sandals
To complete your summer look with long skirts, choose footwear that allows your feet to breathe. For cool, comfy feet, choose sandals, espadrilles, or canvas sneakers. Avoid wearing boots or shoes with closed toes as they might cause your feet to perspire and feel restricted. There are also shoes that can make you look stumpy so be aware of your skirt`s length and the type of shoes you pair it with.
You may confidently match and wear long skirts during the summer without worrying about excessive perspiration or discomfort if you keep in mind this professional advice. Keep in mind to go for light hues and airy fabrics, and to appreciate loose silhouettes. For increased airflow, take into account slits and ventilation elements, and layer carefully with light fabrics. Consider the length of your skirt when accessorizing, and choose lightweight pieces. Lastly, add breathable clothing to your summertime ensemble.