The prospect of putting on a bathing suit is enough to fill most women with dread.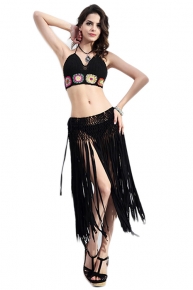 But to those of you worrying about cellulite or the size of your bottom as you
prepare for your holiday, I say: relax.
Nearly two decades as a swimwear designer have taught me that any woman, no matter
what her age, and regardless of whether she is a size 8 or an 18, can look great on
the beach.
Yes, the stars who wear my designs, from Beyonce to the Duchess of Cambridge and
supermodel Cindy Crawford, have enviable physiques.
But I firmly believe that the way you feel about your body, and the mindset with
which you approach baring much of it in public, are far more important than the
circumference of your thighs or the date on your birth certificate.
And with some clever styling tricks and simple preparation, you, too, can look
paparazzi-ready.
So, here are my top tips to classy costume wearing – my swimsuit psychology for a
happy summer.
SHRINK TO FIT
First, a warning about my pet peeve and the most common mistake women make when
swimsuit shopping.
Don't buy a size up because you think more fabric means better camouflage for your
wobbly bits.
In fact, the opposite is the case. Excess material simply adds bulk and a high risk
of a saggy bottom.
Buy your exact size – or even a size smaller – to create the illusion of looking
smaller than you are, and make sure that the costume fits tight against your body.
Be brave: showing two or three inches of buttock cheek is important – it will
enhance the shape of your derriere, which will look less appealing if it's entirely
covered in fabric.
Although a high-rise cut is fashionable at the moment, a costume that finishes lower
on the hip is generally more flattering for bigger bottoms.
LIGHTING STRIKES
The glaring ceiling spotlights in most shop changing rooms are unflattering enough
to make even supermodels look like they have cellulite.
So it's little wonder that we often leave dismayed and empty-handed.
That's why, in our store, we mimic the natural effects of daylight by positioning
lights at the sides of the cubicles and behind the mirrors.
Alternatively, order online and try in the comfort of your own home, where you'll
get a much better idea of how well a costume fits.
On the beach, cloud cover is more forgiving, as sunshine highlights imperfections –
worth remembering when you're deciding just how much flesh to reveal and how bright
you want to go with the colour of the costume.
AGE IS JUST A NUMBER
No woman should relinquish her bikini just because she hits a milestone birthday.
Look at model and swimsuit cover girl Christie Brinkley – she's 63 and she still
looks sensational in hers.
If you feel confident, you'll look great, and high-waisted bikini bottoms can work
wonders at disguising wrinkly stomach skin.
That said, swimsuits are so fashionable right now that even twentysomethings are
ditching their two-pieces.
No matter what your age or how pert your posterior, however, please don't be tempted
by a thong: they're just plain vulgar.
OVER THE RAINBOW
Lots of British women tend to think they're too pale to buy colourful swimsuits.
But this is a myth – sky blue, for example, can look striking against most fair
complexions. My only word of caution would be that big, bold patterns can make you
look bigger.
Block colours or intricate patterns are, broadly speaking, more flattering for
fuller figures.
A black one-piece is timeless, slimming and will make any woman look elegant, while
I have a weakness for white, which can't be beaten for showing off a tan.
I'd stick with neutral colours, such as animal prints, at the start of the holiday
when your skin is still pale. Build up to whites and brights – a personal favourite
is yellow – once you've built up a tan.
Make sure that your swimsuit is thick enough so as not to become embarrassingly
see-through when wet – all my fabric is double-lined for this reason.
And always handwash (whites should go only with other whites) with a mild detergent
straight after wearing to remove any sun cream marks and make sure it stays
pristine, and dry out of direct sunlight or the colour will fade.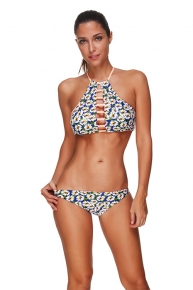 SEAFRONT STYLE
How you wear a swimsuit is so important. When sunbathing, keep one leg straight and
the other bent – your legs will instantly seem slimmer.
A sarong will disguise a bloated stomach or larger legs en route to the bar, but
don't clonk around in heels – even wedges – to make your legs look longer.
Sinking into the sand isn't a good look. A flat, metallic sandal is far more
flattering.
Ruching is a clever way to disguise a wobbly tummy and create an hourglass shape,
and swimsuits that claim to control your body shape can certainly make you feel more
confident, even though they are unlikely to dramatically change your shape. A clever
cut doesn't need underwiring – some of my designs are created without it for a
closer fit, for better movement.
A halter-neck style actually allows more support, because it can be better adjusted,
and is the best way of creating cleavage.
LAST-MINUTE TRICKS
A deep tissue massage improves the lymphatic drainage system, helping to reduce
cellulite and water retention, while avoiding refined carbohydrates, such as white
bread and pasta, in the days before a holiday can quickly banish bloating.
Drinking two litres of water daily also helps skin glow.
Exercise-wise, I think the best activity to maintain a slim, firm body for the beach
is running.
I haven't gained a pound in the 20 years that I've been jogging – plus, you can take
your trainers just about anywhere.
SKIN DEEP
While everyone looks better bronzed, there's no need to spend a fortune on
professional tanning.
If I don't have time for a spray tan, I do it myself with a mitt the night before I
fly.
Too late for that? Blast a showerhead of freezing cold water over your legs for five
minutes before you hit the beach.
I acquired this tip from a ballerina I once lived with who did it every day. While
it's not the most pleasant sensation, it will give your circulation a boost and
temporarily tighten your skin.
PICTURE PERFECT
The camera can lie – actress Eva Longoria recently posted two pictures of herself
wearing one of my swimsuits on Instagram.
The first was taken from eye level and the second was a selfie taken from above her
head.
The latter picture instantly made her look taller and slimmer, because taking
photographs from above is more flattering.
If you're over 20, avoid having your picture taken in direct sunlight – the shade is
kinder to skin tone, and a snap taken at sunset is the most forgiving of all.