If you love wearing stripes, especially in swimsuit form and on sun-soaked days, then you're going to freak out over a certain just-released plus-size swimwear collection. The brainchild of Brazilian swimwear designer Bruna Malucelli and plus size fashion and lifestyle blogger Katie Sturino, the lineup is composed of so-simple-they're-perfect one-pieces and bikinis that all feature colorful linear patterns. It's bright, it's breezy, and it's inclusive AF. It's also about time for something like this!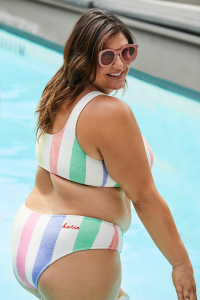 "Plus swimwear typically looks like it is made for a plus body, or like it is trying to hide something. I just want a suit that a non-plus size friend would want to buy too, not something I had to buy because nothing else was available," explained Sturino to Refinery29. "We still have too few options in the swimwear market and when we do, they usually look like they're made for plus-size women," added Malucelli. "I don't believe women with curves want that, they want to have what other girls are wearing and they want many more options. Not something that screams plus-size only."
Head to Sturino's blog, The 12ish Style, and you'll see that she doesn't just like swimwear season, she loves it. In one post, she went so far as to use the hashtag "#lovesummerhateeverythingelse" and deemed May 22, National Swimsuit Day, her "new favorite holiday." In other words, the girl knows her swimsuits, and she took her knowledge of what makes excellent swimwear so superior and translated it into designing the ace new line.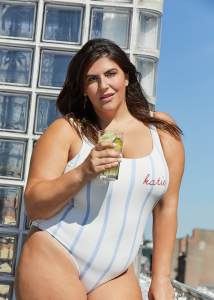 Take one look at the collection's offerings and you'll see she executed her goal to a T. Void of triangle tops, it includes two bikini top styles that provide comfortable coverage, one with spaghetti straps and the other with thicker tank straps. The one-pieces also feature thicker straps — they're a cool take on the classic maillot. In terms of stripe patterns, some are rainbow, some stick to a two or three-tone color palette; some feature horizontal lines, while others feature parallel lines. All of them, however, have the option to be customized via hand-embroidery, so if you want to add your name, initials, or anything else to your swimsuit, now is your chance.
The collection is being released exclusively through CoEdition, a newly launched fashion e-commerce site dedicated to offering pieces ranging from size 10 and up. Brooke Cundiff, one of CoEdition's co-founders, told Refinery29, "CoEdition is a powerful platform to create change in the retail space, to serve a woman who has been ignored by traditional retailers. So, when we thought of our first collaboration, we naturally thought of Bruna and Katie. Katie is a great advocate for body positivity, size inclusivity, and great personal style. Our values align perfectly with Katie's and we are thrilled to work with Bruna. Her Brazilian flair is perfect for CoEdition, and she has created unique and flattering designs that women will love."
Each swimsuit in the collection retails for $229, which might initially seem a little steep for something you can only wear during a small portion of the year. But when you consider the thought that went into creating each style, their high quality, and the fact they're legitimately cuter than 90 percent of all other swim offerings, it's totally worth it.