Tiktok is a cool app that used to be a haven for youngsters to be creative with music and crazy effects. Nowadays, it`s more than just a platform for creativity, it already has e-commerce for live selling, and sponsored ads, and in some countries, you can even earn money by creating content.
What`s awesome is your FYP page is catered to your personal likes, and sometimes it can be totally random which is why you might see unfamiliar faces. However, what`s common are their outfits. A lot of Generation Z kids have laidback yet ultra-stylish fashion tastes that are also very comfortable. Here are some fashion inspirations to make you feel beautiful, young, and in trend:
Jeans in White
Lettuce-Edge Cropped Tee Premium Boyfriend Jeans Plus Size Marble Print Denim Jacket
This jeans outfit features a white lettuce-edge cropped tea, a pair of ripped boyfriend jeans, and a big denim jacket. You can button one of the middle buttons of the denim jacket unevenly so that one side of the jacket is hanging loose to the side like an off-the-shoulder style.
This is a simple but very modern street-style look that you can wear even while at home. You can accessorize with a choker for an edgy look or a gold chain necklace for a statement look.
Tiktok is also an avenue for young entrepreneurs to showcase their creative mindset. There are a lot of small business owners selling crochet tops not only because of the good quality, but because they`re also very trendy this summer.
A crochet top is easy to accessorize, you can wear it as is but you can also layer it with an oversized cardigan, and put on a complementing baseball cap for a cool chick look.
MOCHA LACE CURVED HEM CORSET GOLD SKINNY SQUARE LARGE HOOP EARRINGS
Gorgeous and sexy ladies who are confident and empowered to wear whatever they want are some of the most inspiring ladies on Tiktok. One outfit that you would usually see in our corsets or bustier tops that look sexy but cute at the same time. You can accessorize with trendy diamond-shape earrings to frame your face, and give your outfit a glamorous vibe.
4. Sweet n` Sporty
Be comfortable whether you`re at home, working out, or running errands because sporty clothes are not just for exercising and playing sports. They have become a fashion statement due to their cool and comfortable fit.
You can simply wear a matching sports jacket and fitted jogging pants, with a stretchable crop top for that sporty chic look.
REEL COTTON GREY MARL ZIP UP BUSTIER HOODIE
5. Soft n` Sweet
Let your cute matching crop top and shorts do the talking about your soft and sweet side that will you give a young aura. This matching set from H&M has a summer vibe that you can definitely wear this season.
You can also accessorize with a rose gold heart necklace, and a Michael Kors bracelet set. As for the shoes, square-toe platform shoes, or a pair of silver strappy sandals would look really cute for summer fun on the beach or shopping with friends.
Printed linen-blend cropped top
6. Preppy Gal
Argyle Faux Shearling Jacket WHITE TWILL MICRO MINI SKATER SKIRT
Get your school girl-inspired outfit on for a sweet and cute vibe. The most distinguishing piece is the pleated or mini skater skirt that you can wear with a faux fur shearling jacket or any oversized faux fur cardigan for a cozy look.
You can accessorize by wearing pearl jewelry, and pair of white sneakers. As for your purse, you can choose something casual like a mini backpack, or a simple crossbody purse with gold chains.
7. Casually Beautiful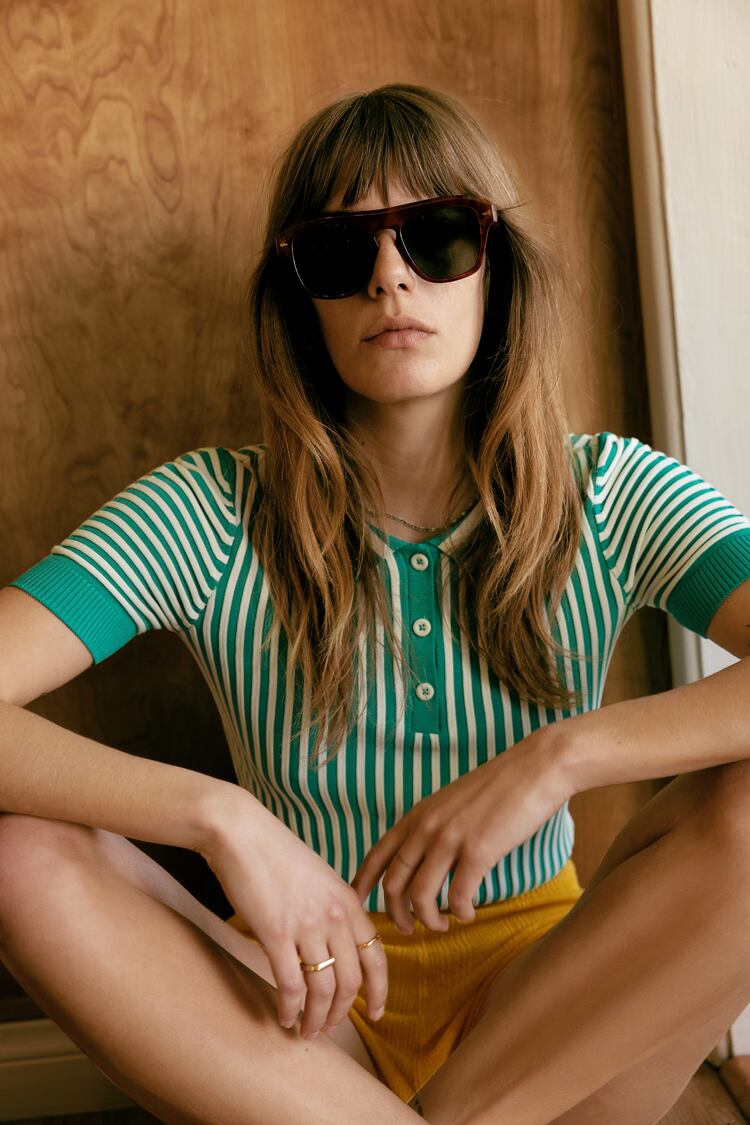 STRIPED KNIT POLO SHIRT WITH RIBBED TRIMS Active Contrast-Trim Dolphin Shorts
Let your beauty shine naturally with a casual outfit. A striped top with a polo-like style and a pair of dolphin shorts is the ultimate basic Tiktok outfit. A lot of girls on Tiktok create videos in their homes or in their rooms, so a lot of them are wearing very casual clothes. Despite not being formally dressed, they still look pretty even with stay-at-home outfits.
The striped polo shirt with ribbed trims gives the look a bit of a well-dressed look with the shorts making it look like you purposely dressed down. This is good for running errands and basically hanging out with friends.
These Tiktok outfits are mostly casual looks that you can see a lot of women wearing in their videos. Despite being laidback, they are cute and absolutely trendy that you should try for a better at-home outfit. These clothing pieces are also easy to find in online stores so you won`t have a difficult time copying the looks!