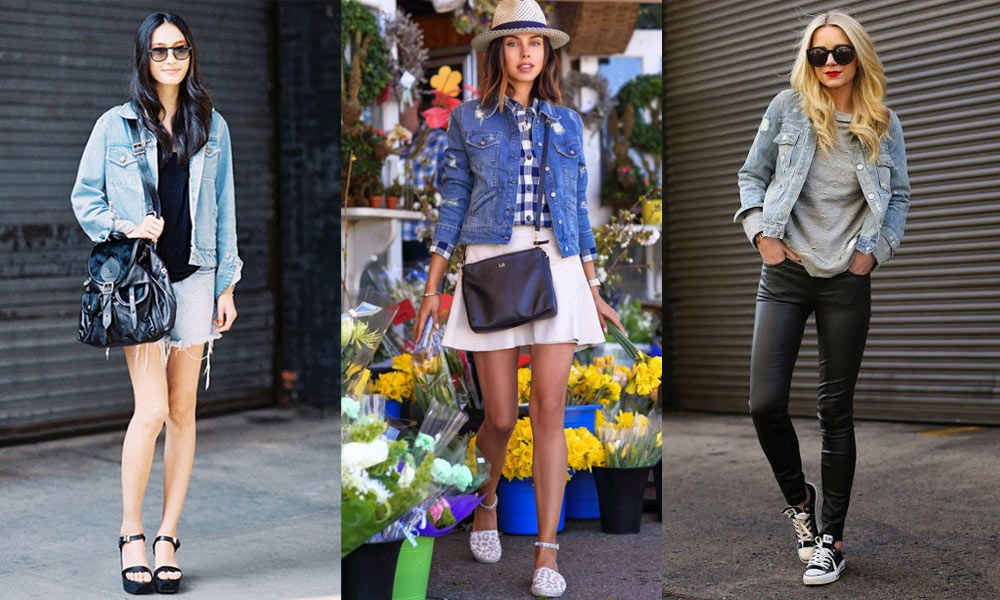 A denim jacket is very important in your wardrobe no matter what. A denim jacket fits well into fashion and makes you look stylish. Denim jackets are le and can be the finishing touch for almost all of your outfits. A denim jacket in today's world of fashion is seen as synonymous with potatoes in the culinary arena. The reason behind this is that it can be combined with anything you want without worrying a bit about the style going off track. Anytime and anywhere you can always choose your favorite denim jacket, and then pair it with anything you're wearing. It will only add to your style! Dozens of brands in the present day produce different shades of denim jackets and so jackets of different colors like green, pink, and even purple are easily available in the nearby market.
DENIM JACKET AND WHITE DRESS
Every time you choose to wear your denim jacket along with a white dress you always end up looking flawless. Any woman may choose a light-colored simple dress to go with the jacket. This trendy look is impactful and will certainly fetch you compliments in any gathering. Such a pair not just looks good but feels good too as it is very comfortable. This pair will help you have a decent look and will also make you a center of attraction.
DENIM JACKET AND BLACK JEANS
The most common and much-preferred way of wearing a denim jacket is by pairing it along with black jeans. Denim jackets along with skinny black jeans never fail to make you look awesome. It's certainly very hard to beat this combination. This combination can be seen as an evergreen combination as many people have been wearing it in this way for a long period.
You may choose to wear a rugged or rough-looking light blue denim jacket and pair it with black jeans. In addition to this, you may choose to wear ballerinas or heels as both of these go well with this outfit.
DENIM JACKET AND CROP TOP
One must try wearing their denim jacket along with a crop top as this combination has become a fashion trend these days. You always look good when you walk by the trend. Pick up your denim jacket and team it up with any of your favorite tops and your outfit for the day is ready. However, you should always make sure to keep the color of your jeans in contrast to the crop top to get the best perfect look.
DENIM JACKET AND JUMPSUIT
If you wish to show off your style you should try wearing your denim jacket over your jumpsuit. This combination looks great and is ideal for a night event. Lastly, you can pair it up with a stylish back and a pair of danglers.
DENIM JACKET AND MAXI DRESS
Maxi dress in combination with a short denim jacket is preferred by many and can surely be said to be the look of the decade.
Everytimeyoupair your denim jacket with a maxi or any full-length dress makes you completely ready for a daytime date or maybe a casual coffee meetup. It is.
DENIM JACKET AND SUMMERY FLORAL DRESS
A denim jacket denim with a summery floral dress is also a very good combination. A floral dress may be of a mid or short length and goes perfect with a denim jacket. Lastly, to add a little more beauty to this look, you may wear ballerinas. The best accessory along which you can carry this summery look is by teaming it up with a headband.
DENIM JACKET AND BODYCON DRESS
You must always try this combination when you want to look extremely hot. Go ahead and pick up your best bodycon dress then pair it up with a contrast denim jacket, you're all set for any event. Once you try it you will surely find this to be a deadly combo.
DENIM JACKET AND MINISKIRT
Another deadly outfit combination is when you pair up a mini skirt along with a denim jacket and black high boots. This combination will surely give you a sporty and classy look and hence draw much attention and compliments.
DENIM JACKET AND LEGGINGS
A combination of a denim jacket with legging a basic t-shirt, and lastly with white converse shoes make you look fantastic. You may go ahead with this combo while you go out shopping or to the movies or maybe for a casual get-together. This combination will never disappoint you and will always make you look awesome.
BLACK OVERALL DRESS WITH DENIM JACKET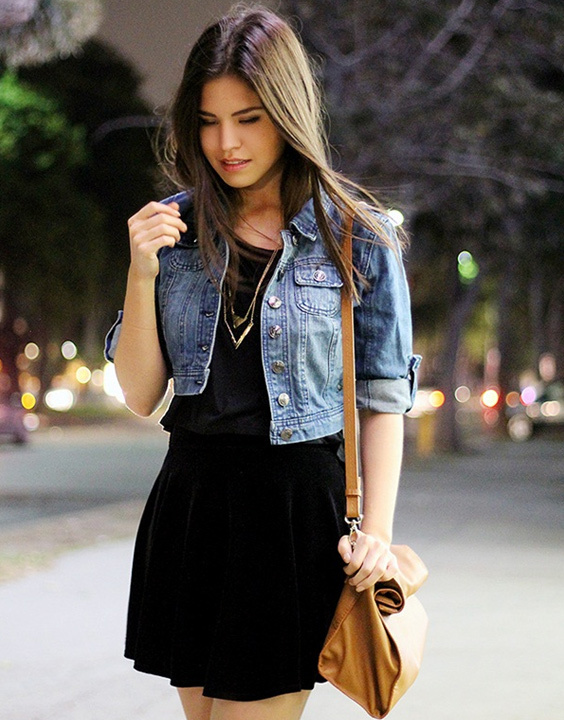 Any black colored dress when worn along with a light blue or greyish-blue denim jacket looks eye-catchy. Such a combination always goes well and looks awesome. In addition to this, you may choose to wear a choker or hoops to complement the outfit.