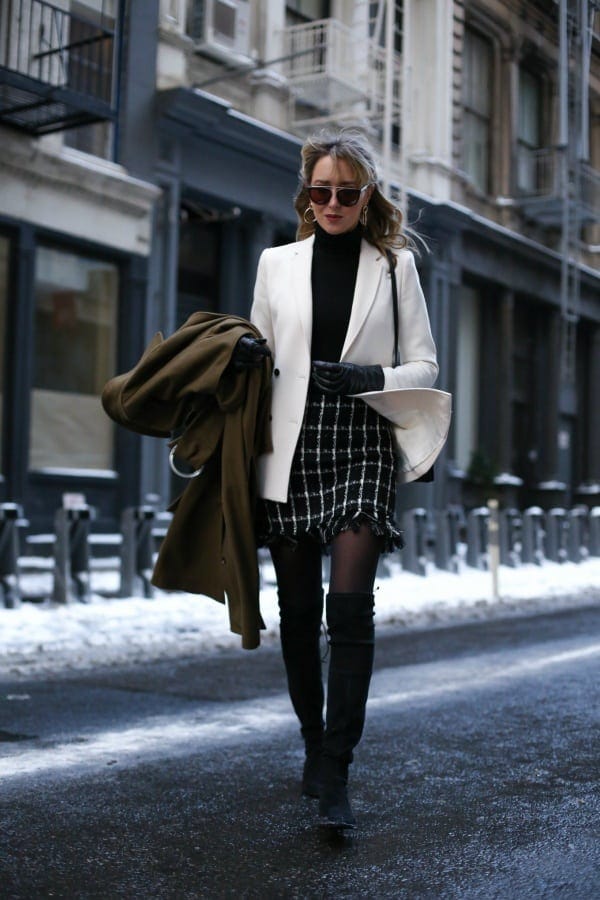 In the past, there was uniformity in formal dressing among many people.  People in those days used to follow the same type of dressing style and pattern. However,  Fashion has completely changed these days.  People these days have begun to explore their sense of style within the spectrum of power and modern dressing. People no longer wear a  boring suit over any white shirt… The present world is all about making a statement and keeping it chic especially for women and so they have discovered various ways to style their blazers and outfits to look extremely flawless.
Blazers are found to go well with everyone irrespective of their age, size or style. In addition to this blazers can be styled in various ways. You can choose to dress them up with heels and tailored trousers or with any casual outfits or maybe with skirts. To wear blazers along with skirts is in fashion these days and the combination looks really nice and elegant. Even many celebrities and models can be seen trying such combinations.  Women may choose to team up their blazers with fitted pencil skirts, miniskirts or with pleated midi skirts. These turn out to be fabulous combinations and to try such new styles is always fun and exciting.
So today we will be presenting some of the best ways to style your blazers and skirts. We will also be sharing the best combination you can bring out from different types of skirts. So Let's Start With it…
Blazers in Combination with Pleated Skirts
 Pleated skirts have been a stylish wardrobe option for millions of women for a long time. However many may find it difficult to choose what to wear along with it. Well if you really want to look stylish with your pleated skirt you can definitely try wearing it with a  blazer. It is the most liked combination of women who search for a  figure-flattering option. A well-tailored blazer never fails to add a structure to the floaty nature of the pleated skirts and thus it can make us look pulled together and more streamlined just as we desire. To bring out a better result from such combinations we can choose to add a  belt bag to our blazer. It is found to be a wonderful trick for hourglass body shapes because it works to emphasize our waist more. A patterned skirt along with a block-coloured blazer becomes a must-try combination for all women.
Combination Of A Double Breasted Blazer With Skirts.
Busy with your day-to-day activities when you ain't got much spare time to spend thinking about your outfits a double-breasted blazer and a  skirt can serve as the best casual combination that you may go for.
Comfort becomes the first priority for many women when it comes to dressing. An ideal choice for them is to combine their double-breasted blazer with a mini skirt wearing which they can rock up their day. This combination can give you one of the best casual looks. And if you wish to add more sparkle to your outfit you can try wearing it along with a pair of black ankle boots. If you succeed in finding the best colour of blazer to be worn with some of the best colours of skirts then the combination of a double-breasted skirt will surely look flawless and hence enhance your style and confidence.
Blazers In Combination To Mini-Skirts.
Every time the summer strikes it brings with it the fashion of wearing mini skirts. Mini skirts of bright or pastel colours are the first choice of many women. Wearing such bright-coloured outfits out in the summer gives you a bold look that surely brightens up your day.
A Patel yellow-coloured oversized blazer is one of the best outfits to try out in spring and summer. In order to provide an amazing base to the overall look, you may wear it along with an orange top along with a mini skirt.  The entire combination will enhance your look and make you look more beautiful. Lastly, you may wear mule heels along with this combination as they are the ones trending all across the world these days. Wearing an orange earring and carrying an orange-coloured shoulder bag along with the outfit combination will definitely provide the best finishing touches to your overall appearance.
Wearing Blazers Along With Midi Skirts.
Midi Skirts are the skirts preferred to wear in all seasons and in all the months of the year. Midi skirts can provide you with a cute and comfortable look. Wearing it along with a blazer can make you look insane.  You can try wearing a light pink bodysuit along with a midi skirt and then wear a light pink blazer to get one of the best outfit combinations. In addition to this, you may wear a dusty pink coloured belt around your waist and put on a cross-body bag. Lastly, you can wear matching heels along with this combination.
So some of the best combinations of blazers and skirts were discussed above. These combinations will definitely give you a stylish and flawless look. Besides this, a good combination like such can also enhance your confidence and boost your self-esteem. So what's there to worry about, just grab on your blazer, pair it with a beautiful skirt and rule out the world .