A bomber jacket usually has a thin lining, smooth texture, and minimalist design. It's normally worn by men, back when it was originally being used by pilots. The bomber jackets we know and see today are slightly thinner in fabric and were made for more comfortable use. It's a smart casual jacket that can instantly upgrade your outfit.
It usually has nylon fabric, and some have fur and fillings for fall and winter use. Here are different kinds of bomber jackets being used by women, and how you can style them to suit your body:
Be Beautiful in All Black
Cropped Bomber Jacket Surplice Skater Mini Dress Chuck Taylor All Star Classic
Feel comfortable with a black skater dress during the fall season with street-style essentials like this black cropped bomber jacket, and a pair of classic Chuck Taylor's.
This is It Girl's classic chic look. This is something you would wear for a casual date night, movie time with family and friends, and late-night fast-food dine-in. This is such a cool fall outfit that will make you look fun yet sweet and comfortable.
You can accessorize this outfit with minimal jewelry, like studs, a smartwatch, or charm bracelets. This is quite similar to a skater girl`s outfit. It`s flowy, casual, and definitely cute!
Varsity Style
Another cool way to wear your bomber jacket is through varsity style. What is a varsity style? It's basically a hip, street-style, and casual look. Imagine preparing your outfit for college. You want your clothes to be comfortable so that you can move around campus with ease.
Regardless of your age, and whether you`re still in school or not, varsity style basically never goes out of style. It`s always trendy, and a good way to look and feel young.
You can wear your bomber jacket with a cropped top, sweater, jogger pants, a pair of leggings, or a pair of comfortable kicks.
CREAM CONTRAST QUILTED GRAPHIC BOMBER JACKET
Floral Bomber Jacket
A floral bomber jacket makes the style less edgy, and softer. This is ideal for gals who are not a fan of street-style jackets but want to take advantage of the soft, water-proof, and cozy fabric of bomber jackets 
You can wear a floral bomber jacket with a pair of skinny jeans, a jean skirt, or black mini shorts. Then, you can wear the outfit with a pair of solid wood sandals, or a pair of white sneakers.
Style with a Mini Skirt
VINTAGE WASH OVERSIZED DENIM BOMBER JACKET GREY SWEAT DRAWSTRING WAIST MINI SKIRT
One way to style an oversized bomber jacket is by wearing it with miniskirts. It will balance out the big size of your jacket. Most miniskirts would do, such as jeans, black, floral, pleated, and drawstring mini skirt. The latter will match an oversized denim bomber jacket so well by giving you a sweet and sporty look.
This is most suited for casual happenings in your life such as hanging out with your family or friends, watching a baseball game, or simply grocery shopping.
You can layer your top with a sweater shirt or a scarf for this fall season. As for the accessories, you can wear canvas slip-on, chunky shoes, and even skin-toned boots.
Match with a Crop Top and High Waist Pants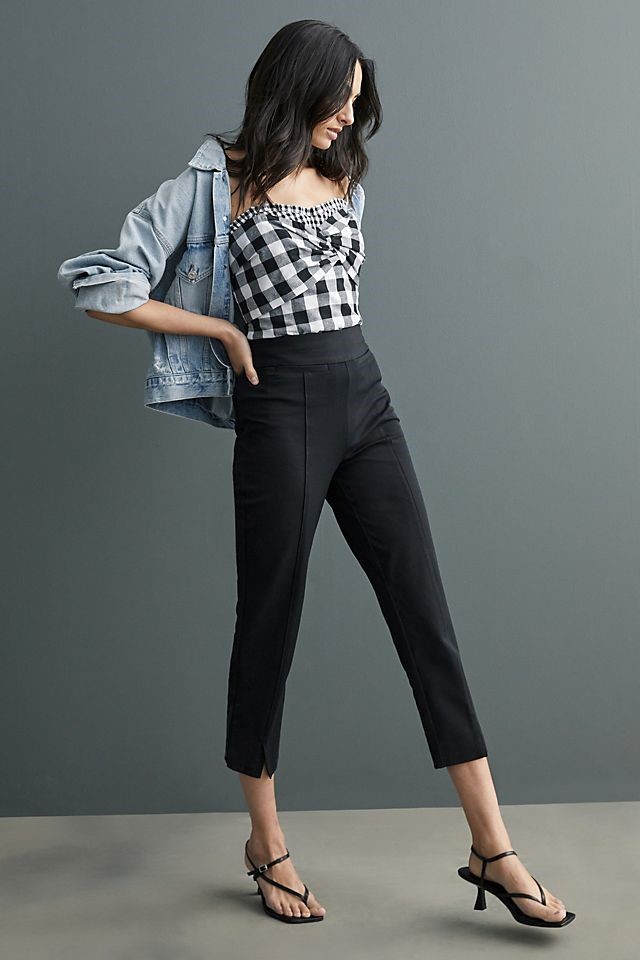 Look well put-together wherever you go with a simple cropped top, fitted ripped jeans, and a cropped bomber jacket. This is an easy way to look fashionable without incorporating over-the-top clothing pieces. This is a cute street-style look that you can wear whenever you meet with friends, go shopping, run errands, go to college, or have a road trip. It`s a comfortable outfit that you can wear on almost any casual occasion.
You can accessorize this look with a small structured purse, or clutch. Then, you can also wear a chic scarf and a pair of low-ankle boots or loafers.
Wearing a bomber jacket is not just to keep you warm and cozy, but also for you to layer your clothes with an aesthetic jacket. You can style it in various ways, whether it's for casual or more business-appropriate settings.