As well as making sure you measure yourself before you buy new Sexy Bikinis Swimsuits  in order to get a perfect fit, it's also useful to know what body shape you are as this will help you in general when browsing different swimwear and beachwear styles and sizes. Put the two things together and you should find that you buy stylish swimwear or beachwear which is flattering for your particular body shape. This will help you look your best on the beach this Summer.
There are essentially six general body shapes to be aware of and it is likely that you will fit into one of these. They are 'Big Bust', 'Small Bust', 'Hour Glass', 'Long Torso', 'Pear', and 'Apple'. Lets take a look at these in more detail.
Big Bust
Women who have larger breasts essentially need swimwear which gives them good support and that also will give them a fantastic shape. Rather than trying to find general swimwear that you like and going for the largest size you can get, you might find it beneficial to look for swimwear that is specifically designed for women with a larger bust that are underwired or maybe are designed as a shelf bra. The extra support you get from a specifically designed bikini top will lead to a better fit.
Colour is really useful to take into account when choosing swimwear and you can use it to your advantage when buying mix and match bikini tops and bottoms. For example, if you go for a darker top than bottom, the difference in colour will give the illusion that your bust is slightly smaller than it actually is, which will lead to you looking more evenly proportioned on the beach.
Small Bust
The most flattering swimwear for the woman with smaller breasts is the halter neck and traditional triangle shape bikini tops. Adjustable straps on your bikini top will help to ensure that it fits properly and always make sure you get the correct cup size so that you can get the most lift that a small bust needs. You may also want to consider looking for a push up or padded bikini top to further enhance the size and shape of your breasts. As with the bigger busted styles, colour is also really important. For example, smaller breasted women should consider wearing bold bright colours on top and darker ones on bottom, as this gives the illusion that your top is bigger than your bottom and draws the eye up away from the bottom area. Also, consider patterns such as polka dots and horizontal stripes as this makes the bust look fuller.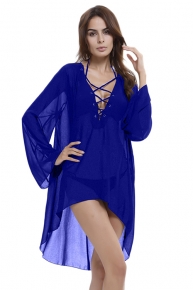 Hour Glass
If you are lucky enough to have a small waist with hips and bust sizes that are equal but larger than your waist then you are said to have an hourglass figure. If this is you, then consider yourself lucky because you will find that almost all swimwear and beachwear styles will fit you nicely and will look great too. What you need to do is simple, show off what you've got. Don't cover things up with a tankini, go get yourself a nice new sexy bikini that accentuates your waistline and your bust. You already have hips and bust that are equal in size so don't spoil this by messing with different colours, always go for a matching bikini. If you are slim then you can accentuate your fantastic body shape even more by going for a tie side bikini.
Long Torso
One of the things you might struggle with if you have a long torso is finding a one piece Sexy Bikinis Swimsuits  that fits properly. Consequently, it's usually best to go for a bikini or tankini so that you can ensure a nice fit. If you want to try and minimise the length of your torso, then look for bikini bottoms with a high cut as this will make your legs appear longer, bringing your torso into proportion. It therefore also makes sense that you should avoid boyleg bottoms as this will make your legs look even shorter and so make you look more out of proportion.
Pear Shape
Women that are said to have a pear shaped body, simply have hips that are wider than their bust and shoulders. As with all the other body shapes, we are striving to create the effect that your body is all in proportion and choosing wisely in the swimwear department will help you do this. So, go for high cut bikini bottoms as this will create the effect of longer legs. Also, make use of mix and match bikinis and go for a brighter coloured top and darker coloured bottom. As with the small breast category, this draws the eye up to the breast area and gives the illusion that your top is bigger than it is and your bottom is smaller than it is. All of these things come together to give the overall impression that your body is in perfect proportion. To help you could also consider using a padded bikini top and avoid wearing larger pants or boy shorts as this simply gives the game away as the more material in play means there is more flesh to cover up.
Apple Shape
Women who are apple shaped have slimmer arms and legs and have larger waistlines. Panic not though, as it is quite a simple task to find swimwear that flatters. It's all about showing off your best bits, namely your legs. So, show them off to their fullest potential by going for high cut or tie side bikinis which will make your legs appear even longer. Tankinis were sent from Heaven for apple shaped women as they cover the tummy area perfectly. Make sure it fits properly though. It should be long enough to actually meet the top of the pant because if you leave a gap, then guess where the eye will be drawn. What tankinis do so well though is to cover the tummy area while still allowing you to mix and match, so go for a patterned top to break up any lines. This will give the illusion of a smooth tummy. You could also consider going for a sculpted swimsuit which will squeeze you in just the right places for a fantastic look.