OK I know we all have legs. But all our legs are different. Long, short, slim and not so slim. What I want to talk about legs and swimwear and what swimwear looks best on all the different legs we have.
The two most important things with Sexy Bikinis Swimsuits  are fitting the bust and the bottom. Fitting the bottom correctly entails getting the leg line right. Swimwear comes in cup fittings these days so fitting the bust has become a lot easier.
Getting the right leg line and fit on your bottom is not that easy.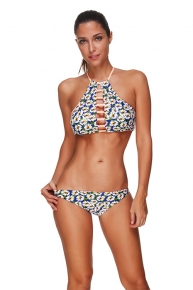 If your legs are not so slim you need a brief or swimsuit with a higher leg line. I'm not talking about high like the 80's where the leg line went up to the hip. Just slightly higher so the leg line is on an angle and makes your legs look longer and therefore slimmer.
Long thin legs require the opposite treatment. Boy leg or low retro briefs or swimsuits will help to shorten the leg. If you are not too long in the body the Hipster brief can work well.
Short legs need the same treatment as the not so slim leg. Higher leg lines to help lengthen the leg. Tie side briefs work well to lengthen and narrow the thigh.
Slim to skinny legs are the hardest to fit. Often they are associated with the Apple shaped body. Any brief or swimsuit with ruching or a drawside will be good for the very skinny leg. The ruching or drawside will pull the leg up and actually tighten the swimsuit on the leg.
Swimwear is the most confronting outfit you will wear. Getting it right is all about balance. Getting the right top to suit your body and balancing it with the right bottom. It's not easy but with patience trying on many different styles you will learn what works for you. When you go to try on swimwear don't look only at the pretty patterns or nice colours. Look at different styles to find the right one for you. Once that is established you can concentrate on colours and prints. It doesn't matter if you wear Bikini's, Tankini's or Full Piece the idea is the same. Get the balance right between the top and the bottom. Be sure the bust fits and the leg line is right and the swimsuit will almost certainly work for you.
Suzanne of Cozzies swimwear, Newcastle, Lake Macquarie and The Hunter Valley's premier retail swimwear store have had many years experience in fitting and selling swimwear. Cozzies swimwear specializes in separates swimwear.