Shopping for swimwear is rarely fun – unless of course your reason for buying is that you're
heading to the Maldives for two weeks in the sun. To make it that bit easier, The Telegraph
fashion team are on hand with their own swimwear woes and tips for how they've shopped and
solved them.
Shopping for: smaller busts
As a Smaller Breasted variety of chick I could really detest swimwear time. Some may be under
the impression that when you have smaller boobs you just slip into a simple triangle bikini
top and trip around like Jane Birkin. Ha. This may well be the case if you also have legs like
sparrows and the tummy of a 12 year old. If that's not the case then you may feel out of
fairness to your thighs and tum that you should add a little volume to your upper zones.
Don't misunderstand me, this isn't about false advertising. I don't need to look like I'm
enormously well-endowed, it's simply about balancing the proportions. Underwiring and padding
are the obvious way to go in terms of maximising what you have. You can also add to this the
visual trickery of narrow stripes and polka dots and panels of bright colour – the smaller the
print or sections the better. Ruffles are pretty and on-trend and beautifully distracting in
the same way; ruching is also your friend. Avoid black, plain colour and tube tops. My perfect
find this summer is a padded, narrow-striped navy and white bikini top with a dangling bow
from Next. Bells and whistles, my friend.
I've never been the most confident bikini-wearer but even more so now, nine months post birth,
where the thought of swimwear fills me with minor panic. But I have worked out the solution: I
need a one-piece with lots of structure and pulling-in at the waist, with underwired cups. It
also needs to come in a flattering dark block colour – I find deep blues and reds look best
against my Indian skin.
I love swimsuits by Biondi – they're around the 200 mark but they last for ages, wash well and
never lose stretch. The Karla Colleto V neck swimsuit has clever ruching down the middle,
which gives the illusion of a slimmer waist and soft underwiring under the chest. I have it in
navy and it made me feel confident on the beach on our recent summer holiday. Oh and the
grown-up, wide straps are great when holding babies – no accidental tugging on a tie-up halter
neck. Can you imagine?
Shopping for: darker skin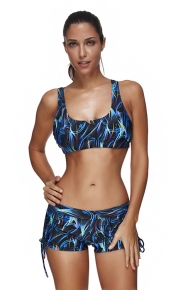 I have typical combination mixed race skin: I tan quickly in the sun but also burn
surprisingly easily. It's proved problematic but after figuring out my perfect formula
(wearing an SPF30 waterproof oil while tanning with intervals in the pool) I'm keen to make
the most of my tan once I have it.
Bright swimwear – sunshine yellow, fuchsia and turquoise – are perfect for darker skin tones,
but if they are a little too bold for you, burgundy, russet and teal also suit dark and olive
complexions and are a great first step into colour. For a week in Dubai last month, I bought a
white swimsuit from Asos (ideal if you'd rather try swimwear on at home) and a Warehouse
scalloped bandeau bikini in both yellow and pink. I always look for stiffer fabrics to keep me
pulled in, since there's no hiding in a colourful style.
It's inevitable that such vivid shades will fade, and tedious as it may be, washing by hand is
the best way to keep bright colours bright – though my yellow Lazul bikini can handle a cold
wash tucked inside a pale pillowcase, with a sensitive fabric conditioner to avoid obvious
fading. If you can afford to spend a little more, Araks, Lisa Marie Fernandez and Triangl all
offer bright colour-block options in sturdy fabrics.
Shopping for: bigger busts
Lesson #1: Bandeaus will never be your friends. There's no telling when one will give up, ping
down and turn family swim into an adults-only situation. Lesson #2: You do not want anyone who
looks your way to wonder whether you confused your swimwear and lingerie drawers that morning.
Shopping for swimwear with (let's call it like it is) an ample bosom is one of the more vexing
fashion problems a woman can face. And I'm not saying that in a humblebraggy, "my biggest
weakness is that I'm such a perfectionist" sense. As a rule, anything above a D-cup deserves
investment; consider the money a downpayment on performance.
Shopping for: technical swimwear
Sometimes I wonder why it's called swimwear: surely 'bits of fabric suitable for nothing more
strenuous than lifting a pina colada' seems more accurate. But if you want to train for a
triathlon (there's been an 88% rise in women's participation since 2012), attempt watersports
or just do lengths at the lido then you need something more supportive – without sacrificing
on style, obviously.
Shopping for: Fairer skin
I don't tan. Whether you read that as an inability to tan, or an unwillingness, you're right
either way. I inherited my mother's fair scottish skin, and thanks to spending my childhood in
Australia, was brought up with fear-tinged reverence for the sun. Apart from a short-lived
rebellion in my teen years, when I burnt myself to a crisp, hoping I'd look a bit less wobbly
with a tan (nope), I've stuck to my guns. I never wear less than factor 50, reapply often, and
stick to the shade on really hot days. Couple that with my love for verging-on-puritanical
summer dresses, and it's no surprise I stay the same shade of blue-white year round.