It was while wandering down Sydney's iconic beach that Dale McCarthy hatched a plan.
The chief marketing officer for Fairfax – who had worked in the corporate and media
worlds for twelve years – would launch an Australian luxury swimwear label inspired
by Bondi Beach.
Three years later, Bondi Born has made waves in Europe and the US, and been embraced
by names as big as Miranda Kerr, Beyonce, Hailey Baldwin and Nicole Trunfio.
FEMAIL sat down with the inspirational entrepreneur and designer, Dale McCarthy, to
find out how she did it – and why the Australian home market is next on the agenda.
According to Ms McCarthy, while she had always been happy in her corporate role, she
also had dreams of launching her own business:
'I spent so much time scouting for entrepreneurs in my day job, who were always so
passionate about what they did,' she told Daily Mail Australia.
'I remember thinking I can't go to the grave without trying my own hand in
business.'
But rather than jump head first into something un-planned, Ms McCarthy had enough
professional experience to know that she needed to get into something she loved to
make the long entrepreneurial hours worthwhile:
'One day in 2014, walking down Bondi Beach, it struck me,' she said.
'I'm an Aussie girl, I was a competitive swimmer in my teens and I pretty much spent
my twenties in swimwear. I would design an Australian premium swimwear label and
take the spirit of Bondi to the world.'
After doing some research into the saturated swim market, when she found out that
there was a growing desire for luxury swim labels at a higher price point in Europe,
Ms McCarthy decided she would launch a 'test season' abroad to see how her label fared.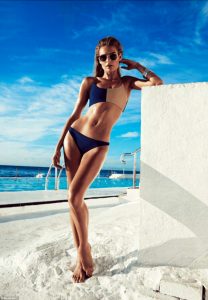 'I sent 1,000 of my designs to a warehouse in the UK and approached a whole pile of
e-commerce stores to sell them,' she explained.
'They gave it a go, and that season did well.'
In fact, 'well' is an understatement.
Before she knew it, Ms McCarthy's passion project was snapped up by high-profile
retailers including Selfridges and Harrods in the UK, Oberpollinger and KaDeWe in
Germany, the Four Seasons in Hawaii and Miinto in Scandinavia, as well as bikini.com
in the US.
So what sets Bondi Born apart from other popular swimwear labels?
'Bondi Born is a luxury brand with no compromise,' Ms McCarthy said.
'I use fabrics that sculpt the body, I spend the money on lining for the suits and
design my own hardware. From the beginning, I knew I wanted to make the female body
look as good as it possibly can.
'I'd go swimwear shopping and feel like I was buying a mass-produced commodity. I
never got that when I was buying dresses from high-end stores.
'As soon as I knew that I wouldn't compromise on the quality of the garments, I knew
that this meant a higher price point. But going to the beach is a vulnerable
experience.
'You socialise with people normally all week, and then you go to the beach on
Saturday and you're pretty much naked. I think it's important for women to feel as
confident as they can when they're in swimwear.
Speaking about her tips for entrepreneurs in general, Ms McCarthy said you need be
aware that you will be working hard – 'ridiculously hard' at times:
'Much harder than you might have done in your 9-5 – all the risk lies with you,' she
told FEMAIL.
'That's why you need to make sure you get into something you're passionate about.
With a new business comes hard work and lots of ups and downs.
'If you love what you're doing, you'll enjoy it and see it all as part of your
journey.'
Right now, Ms McCarthy is in talks with various premium boutiques and retailers
around Australia to sell her wares.
The Spring/Summer '18 collection will be available for pre-order from the site from
October and elsewhere in Australia from November.
'A lot of Bondi Born is about female empowerment and making women look as good as is
physically possible on the beach. The celebrities who have worn the label so far
have been hugely helpful.
'I'd love to see women like Scarlett Johansson or Michelle Obama rocking the styles
one day.'