Want to hit the beach, lake or backyard swimming pool in style this season? You're in luck.
We've rounded up five sizzling swimsuit styles that are guaranteed to help you do just that.
From cool new textiles to eye-catching embellishments, these bathing suits cover off all the summer's hottest trends.
The trend: Cool and classic
One-piece swimsuits are proving popular again this season, and we're loving an option that's a) locally designed and b) does double duty. This swimsuit from the Vancouver-based brand Union Swimwear is reversible, boasting a contrasting inside colour so you get two classic swimsuit options — in one.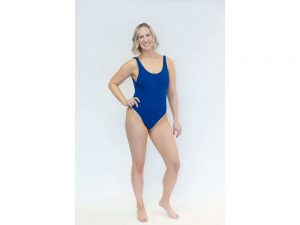 The trend: Fresh florals
This swimsuit hits several style markers in one. From the cold-shoulder style, to the ruffle detail — and even the bold flower print — it's a monokini that any fabulous fashionista can enjoy. Plus, the flattering halter-type design ensures it will work well for most bust sizes without any fear of falling out.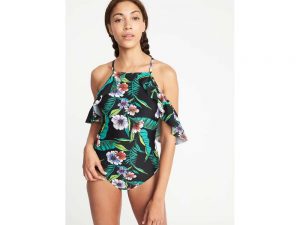 The trend: Strategic cut-outs
Yes, you can show some extra skin in a swimsuit without revealing, well, too much. This La Vie en Rose one-piece swimsuit proves how with strategic mesh inserts that serve to both add an interesting element to a simple black design, while also playing with visual lines in a way that turns out to be surprisingly slimming.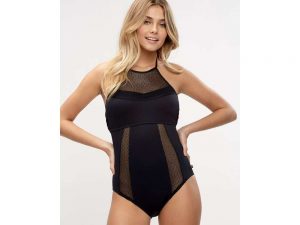 The trend: Soft style
Velvet is a surprising new fabric in swimwear. Companies including La Vie en Rose have given the tactile textile a water-friendly reboot and have now deemed the fabric both chlorine and salt resistant. Plus, the soft fabric also keeps its bright colour despite water and sun exposure and also dries quickly. Prepare to discover your new favourite fabric for swimwear.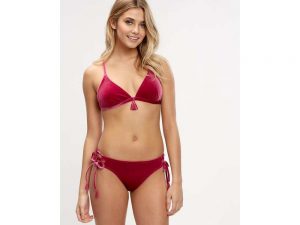 The trend: Totally knotty
While you can opt for a number of different embellishments on offer this season — from rivets and studs to extra ties and peekaboo cut-outs — we're partial to this Khaki Knot top and Naomi bottom from the Vancouver-based brand Beth Richards. The style is chic and simple, but the knotted front ensures it has that little something different from the usual two-piece designs.