With one day left of the Miami Swim Week, we've already seen a manner of sexy styles hit the catwalk.
So far, we've seen models flash everything in sheer fabric bikinis on the catwalk in Florida.
And even spotted runway stars flaunt fishnet two-pieces – which left little to the imagination.
Here we take a look back at some of the sexiest trends from Miami Swim Week 2018: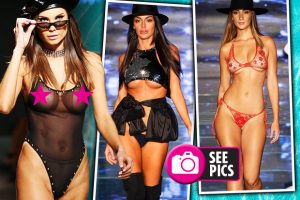 1. Fishnet bikinis
Sports Illustrated model Danielle Herrington donned a black fishnet bikini as she hit the runway.
She turned heads with her design during Miami Swim Week at The W Hotel South Beach.
While another brunette model wore a red lace fishnet bikini with cream heels and a black trilby hat.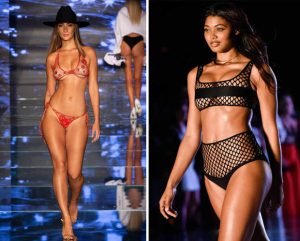 2. Underboob bikinis
We also saw a model flaunting the underboob trend, which has already proven to be a hit with celebrities. The catwalk star wore red bikini top with black bottoms.
She teamed the look with a beige hat and gaint hoop earrings.
Meanwhile, a brunette beauty took sexy to another level when she flaunted her curves in a black underboob bikini.
The sequinned top was teamed with a tiny bikini bottom and black, silk wrap skirt around her waist. She completed the look with black knee-high boots.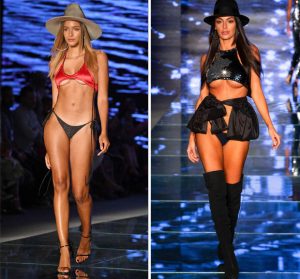 3. Sheer fabric swimwear
A model flashed everything as she walked the runway in a completely transparent swimsuit.
She sent pulses racing when she stormed down the catwalk in her see-through ensemble.
Another model followed in her footsteps by donning a slashed swimsuit with lace-up detailing.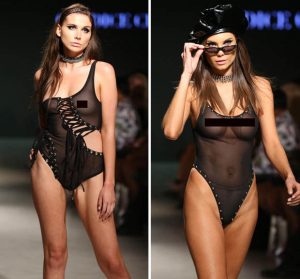 4. Wrapped bikinis
A model rocked a peach wrap-around bikini top with amthcing bottoms.
She completed the look with a maroon hat for the 2018 Sports Illustrated Swimsuit show at PARAISO.
Mara Martin also turned heads at the show as she breastfed her five-month-old daughter as the walked the runway in a gold bikini.