The annals of Movie and TV history are full of iconic images of beautiful women. Surprisingly, some of the most memorable are of actors and actresses in Sexy Bikinis Swimsuits , which proves that it doesn't just take a lot of skin to make something sexy.
For instance, most people remember the TV show "Baywatch," but not because of the stellar acting. When the word, Baywatch comes up, the first thought is likely Pamela Anderson strutting around in her red, lifeguard one-piece swimsuit. Nobody complained that she was wearing relatively modest swimwear. They just stared at her in all her modest swimwear glory. Remember that Baywatch introduction theme?
Sun glistens off a crescent wave as a lifeguard, surrounded by gulls, watches over the rolling surf. Enter the drums and keyboard. The images switch to windsurfers. The music crescendos. Peter Cetera's voice blasts "Some people stand in the darkness" as the camera shots switch from crowded beaches and lifeguards in action to the backside of women in bikinis. It then quickly transitions to the Baywatch lifeguard team walking in unison in their one-piece swimsuits – in direct contrast to all the other scantily clad ladies on the beach.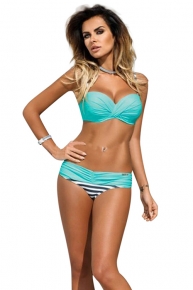 Then enters David Hasselhoff on the bow of a speedboat, then running on the beach. All the while, Cetera sings, "I'll be ready" and "Don't you fear." Then it shows the real stars of the show. First it starts with Pamela Anderson. First she's swimming underwater, then the scene quickly transitions to a shot of her profile silhouetted by waves crashing in the background, fully showing her dressed in modest swimwear.
Then it's Yasmine Bleeth's turn. The first is a brief shot of her riding a waverunner. Then it turns to the blatant I'm-sexy pose, as she's coming out of the water in slow motion putting her hands through her hair. As like Anderson, she's still wearing modest swimwear. Then it shows a couple of the dudes, David Chokachi and Jeremy Jackson, who star in the show. But it soon goes back to Gena Lee Nolin coming out of some door in a black one piece, looking up as wind blows her long locks in another slow-motion-I'm-sexy pose.
Most of the women on Baywatch got famous because they appeared on that show. But, really, it wasn't because of the script, the storylines, and the great acting. The TV show was cheesy and awful. But, it still kept people watching and was highly successful. And no, it wasn't David Hasselhoff that kept people tuning in. People, whether they admitted it or not, tuned in to see hot women in swimsuits – modest swimwear of all things. It could be argued that Pamela Anderson's Baywatch swimsuit is the most recognizable of all of her work. The swimsuits on Baywatch were sexy, and modest. No one argues that.