You have probably heard of Spanx, the company that makes slimming shape-wear for both women and men. What you may not have known is that Spanx has their own line of swimwear for women that uses the same technology and features found in their regular line of shape-wear. You may not also know that Spanx offers a less expensive line of their swimwear, which is called the Assets line. Like their regular line of swimwear and swimsuits, Spanx's Assets line is essentially shape-wear you can swim in. Both lines of swimwear- Spanx's regular line and their Assets line- offer women the opportunity to look and feel great at the beach and the pool. Spanx's swimwear and swimsuits can help slim your hips, flatten your tummy and rear, while also completely supporting your chest.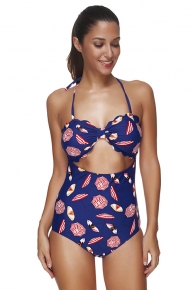 So what's the difference between Spanx's regular line of Sexy Bikinis Swimsuits and their Assets line? Well, the main difference between the two lines is the price. There are some other differences between the two, which I will be talking about later. Like I mentioned previously, both lines offer slimming swimwear for women, but the Assets line is less expensive than the regular line of swimwear. Assets Swimwear is a brand within the Spanx Company, offering a line of Spanx swimwear that is more cost-effective and affordable from the regular line. If you actually compare the prices of the two lines, you will most often find the Assets line of swimwear is less expensive. Lets take a look at some of the prices from Spanx's Assets line of swimsuits and compare it to the prices from their regular line of swimwear.
First up is Spanx's Halter Swim Dress, which is from their one-piece line of swimsuits and also happens to be their most popular swimwear item. The Halter Swim Dress retails for $188.00 and comes in Black or Twilight. Compare this to the Assets Halter Swim Dress, which retails for $49.99 and comes in Pink and Black. As you can see, there is quite a difference between the two swim dresses in terms of price; the Assets Halter Swim Dress retails for $138.00 less than its counterpart. Another example can be found in Spanx's Separates line of swimwear. Spanx's regular Skirtini retails between $58.99 and $98.00, and comes in Black. The Assets Skirtini retails for $29.99 and also comes in Black. Again, there is quite a price difference between the two items.
At this point, you may be asking why anyone would pay almost $140.00 more for a swimsuit when its less expensive counterpart seems to be exactly the same? Well, this brings us to the second difference between the Assets line of swimwear and Spanx's regular line of swimwear. This difference can be explained in the quality and materials used between the two lines. While both lines are effective and get the job done when it comes to their respective slimming capabilities, their is a difference in their quality and materials. Spanx's regular line of swimwear and swimsuits generally use materials such as Spandex, lycra, nylon, mesh, and elastic. The Assets line of swimwear tend to use more materials like cotton and nylon in its swimsuits. What does this mean? It means that overall the design and construction of Spanx's swimwear is thought to be more effective at shaping and slimming a woman's body and figure. This is attributed to the fact that the materials used are not as flexible versus the ones used in the Assets line.
Another difference between the two swimwear lines is that regular Spanx swimwear will most often last longer than Sexy Bikinis Swimsuits from the Assets line. This means you will pay more upfront for one of Spanx's regular swimsuits; however, you won't have to replace it as often as a swimsuit from the Assets line. What does this all mean for the consumer? Should I pay more money upfront or buy a less expensive swimsuit? While I can't necessarily answer these questions for you, I will tell you that all these options are great for the consumer. Spanx's entire line of swimwear- their regular and Assets line- offers a huge array of choices in various different colors, styles, and sizes. Because of this variety and choice, there is an option and a solution for any woman and any body type. The bottom line is you don't have to worry when choosing between Spanx vs. Assets, because both lines of swimwear offer quality swimwear and provide you with a multitude of options to look and feel your absolute best!