It's time to put away the winter boots and bring out the fashionable shoes of the season as the weather increases and the sun comes out to play. This year's spring and summer shoe styles are all about adaptability and comfort, from cozy flats to strappy sandals and clunky sneakers. The top shoe trends for spring and summer 2023 are as follows:
Chunky Sneakers
For this year's spring and summer seasons, chunky sneakers—which have been popular for a few seasons—remain a stylish option. These shoes give any outfit a casual touch and are ideal for days when you want to be relaxed but still put together. For a stylish and playful appearance, team them up with jeans, leggings, or even a pretty summer dress.
Fila
There are various ways to style chunky sneakers if you want to wear them in the summer. For a more feminine style, wear them with a sundress or midi skirt. For a more laid-back look, try them with cropped jeans or shorts. You can add a flash of color with a statement accessory like a bag or sunglasses, and neutral hues like white or beige will aid in keeping the focus on the shoes. Last but not least, have fun, and don't be scared to try new things with your clothing!
Flatforms
This year, flatforms are once again in vogue and are the ideal option for people who wish to heighten their appearance without sacrificing comfort. These shoes come in a number of styles, from sandals to sneakers, and have a flat platform sole that makes them comfortable to walk in. Flatforms go well with dresses, shorts, and pants and are fantastic for adding a splash of color to any ensemble.
Strappy Padded Flatforms – White
You may extend your legs by wearing flatforms with a flowy midi dress or a cropped jumpsuit in the summer. For a stylish and current appearance, you may also pair them with high-waisted shorts or culottes. To complete your summer attire, don't forget to accessorize with a straw hat or a pair of bold earrings. To ensure a comfortable fit and prevent any accidents, make sure to select the proper size and practice walking in them.
Strappy Sandals
This year, strappy sandals have remained a staple shoe option for the warmer months. These shoes, which range from flat sandals to heels, offer a touch of elegance and comfort to every ensemble and may be dressed up or down. Pair flowy dresses, skirts, or shorts with a range of styles, such as those with thin straps, bulky straps, and embellished designs.
Heightened sandals have become popular because of their carefree yet stylish and functional design.
STEVE MADDEN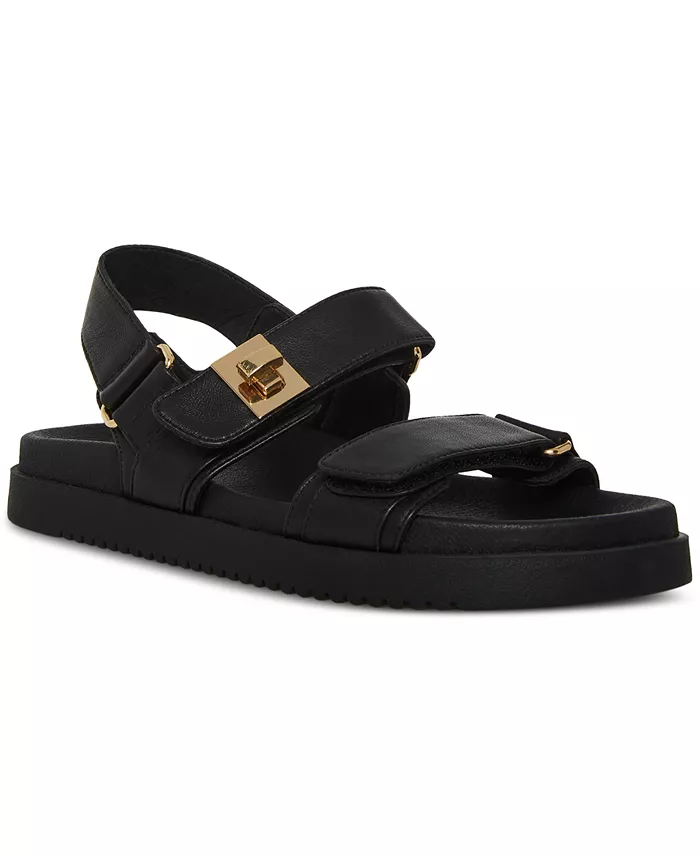 Women's Mona Slingback Footbed Sandals
Mules
Slip-on footwear that is both comfy and fashionable are mules. They are a versatile option for any ensemble because they are available in a number of heel heights and styles, including open-toe and closed-toe options. Mules go great with both jeans and dresses and are excellent for adding a touch of refinement to your ensemble.
They`re great for both casual and date looks. You can easily wear sun dresses and beach-appropriate clothing with it which would give you a dressed-up look even while on vacation!
Brighton Chunky Chain-Link Flat Mules – White
Espadrilles
Espadrilles are a summertime must-have shoe design and are ideal for bringing a dash of bohemian charm to any look. These shoes come in a range of styles, from slip-ons to lace-ups, and include a woven jute sole. Espadrilles provide a casual touch of flair to any ensemble and go great with shorts, skirts, and summer dresses.
Espadrille shoes can be worn with a flowing maxi dress or skirt for a casual yet stylish summer style. Additionally, you can put them on with shorts, a denim skirt, or cropped pants. Choose a pair in a versatile neutral hue like black or beige, or choose a pair in a striking color to add some color to your ensemble. To finish the summer style, add a woven purse, sunglasses, and a bold hat.
Comfort and adaptability are key components of this year's spring and summer shoe trends. There are many different shoe types to pick from that will keep you appearing fashionable while also feeling comfortable, from chunky sneakers to strappy sandals and espadrilles. Prepare to walk out in style this season by putting your best foot forward!