Working out is not as easy as you think. It requires so much hard work, dedication, patience, and commitment. It is easier to be a couch potato than to sweat crazily in a gym. The heat makes us extremely uncomfortable. So our attire should give us the maximum comfort that we need so we can perform our exercise routines in the best way possible. A good and lightweight outfit can push us to do more repetitions and prolong our workout sessions more because we do not let our trickling sweat stop us from our fitness routines.
 I'm no Barbie girl, but fitness is very important for me especially right now when we are experiencing lockdowns every now and then. We can not just keep on being couch potatoes, pigging out, and eating instant food because that can be very toxic and detrimental to our health.
As the malls and gyms are slowly opening, we can now work on our road to fitness. Of course, whenever we have our workout sessions, we still want to look good even when we sweat so we can feel good about ourselves. So I'm recommending 5 Workout Gym Clothing Necessary for Every woman who will be hitting the gym soon. Wearing a good outfit is indeed a great motivator to achieve one's fitness goals:
Seamless Long Sleeves with Leggings Coordinates
 A monochromatic coordinate is always stylish yet functional. You can mix and match these 2 pieces with your other workout outfits. I highly recommend these types as seamless outfits are very light, airy, and breathable because of their seamless technology. You will feel more comfortable because this is fast drying and stretchable too. It's a great fabric to try especially when you easily sweat. This look is perfect too for those who are more conservative and conscious of their overall physique. Grab all colors if you get the chance as they have more than 10 colors available perfect for everyday workout sessions. Exercising has never been this fun and colorful. Notice your body change with color-coded outfits as the distinction of your everyday progress. You can use this for yoga, cycling, jogging, squats, and any workout activity or even for daily wear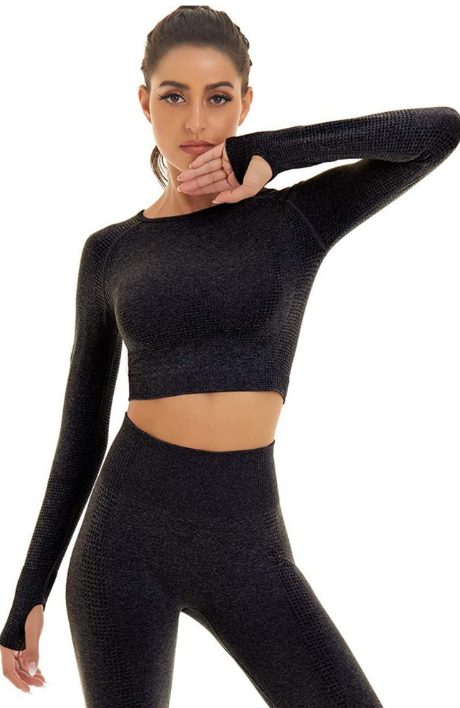 High Waist Short leggings with Crop Top Shirt
Wearing a high waist short leggings give you maximum coverage while you do your stretching exercises or yoga poses. No muffin top. You are assured that your outfit will stay in place and will not fall down whenever you bend or stretch. This seamless outfit is perfect for those people who prefer less coverage while doing their exercises.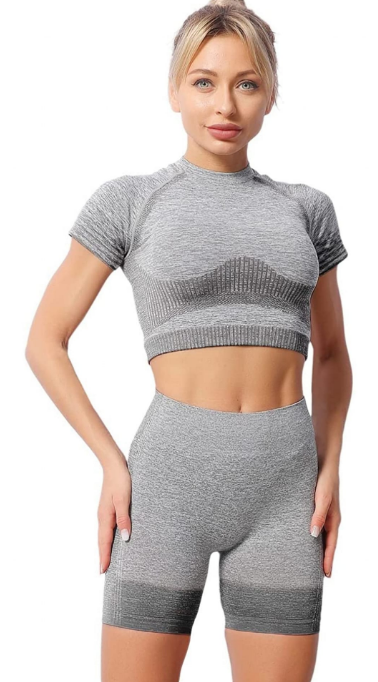 High Neck Sports Bra with Yoga Leggings
 I love this look as it is conservative yet very stylish. This high-neck sports bra even has removable push-up padded cups for extra comfort and style. I love the quick-drying fabric and stretchy material. As the outfit is seamless too, it shows off my curves in a flattering way. This look is knit ribbed material so it has a high sweat absorption capacity reducing stickiness when sweating. These full-length leggings give you a butt lift too as the knit ribbed material follows the curves of your body giving it a more defined & pushed up look. So sexy!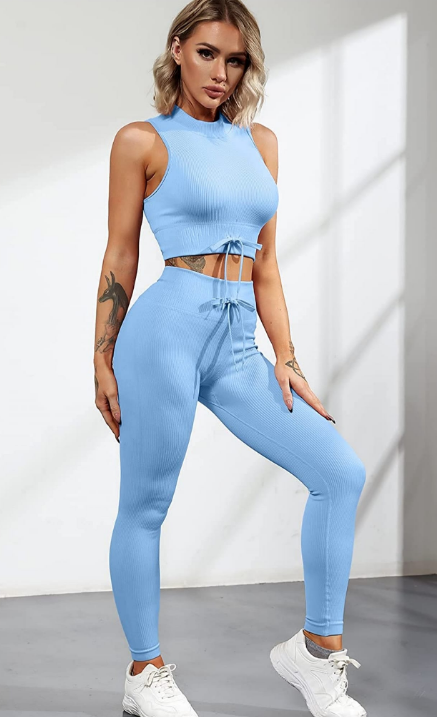 Sexy Oblique Strap Sports Bra with High Waisted Leggings
 This is a flattering and eye-catching look. The design is a slim-fit and seamless knit fabric that follows the curves and movement of your body. The fabric is so stretchable and is also sweat-proof and squat-proof. Now, it is so easy to stretch and bend with no limitations. This outfit will also cover your body's insecurities, especially the tummy due to its high waist coverage.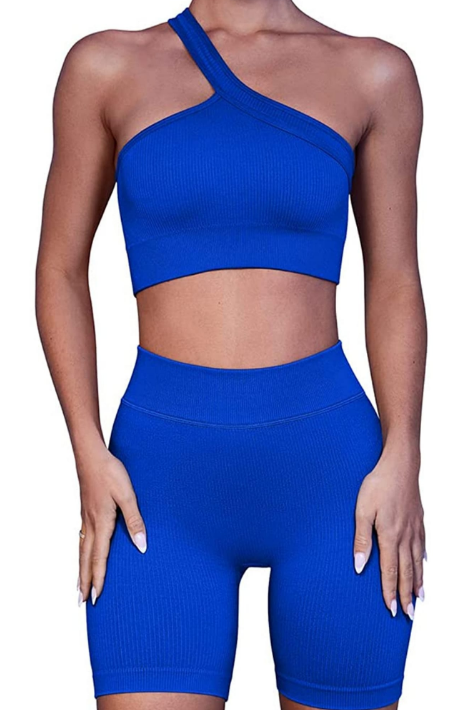 Bodycon Playsuit Jumpsuit
 It's very convenient & flattering to just bring or wear a one-piece outfit. I love wearing jumpsuits as I don't have to worry about pulling and tucking my outfit every now and then. This playsuit is quick-drying, lightweight, breathable, and stretchable so I can keep on moving non-stop. The criss-cross strap at the back is so sexy yet functional. No sweaty feeling as the back is open. This outfit is perfect for skinny people as it would give a very flawless model vibe even while working out. The bodysuit gives an illusion of a sexy butt lift because of the push-up high-waisted leggings. This one-piece bodycon is definitely a winning piece.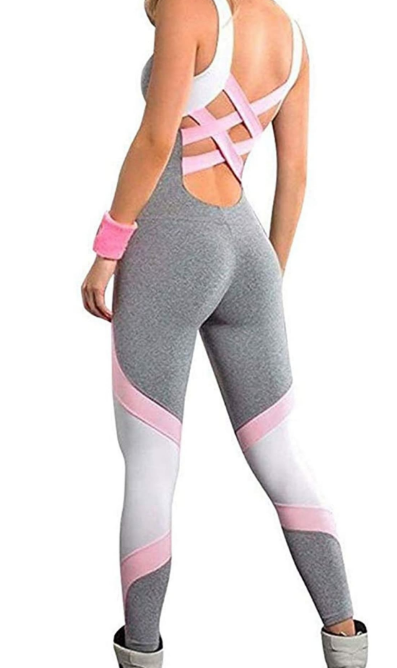 As you have disciplined and worked so hard-hitting the gym, time to flaunt your toned body and sexy abs. Do not worry if you have not yet reached your fitness goals. Just remember that with every sweat you make, your body slowly changes for the better. No pain, no gain. Never worth it ever comes easy!
We have to learn to be active and embrace that 'Just Do It' mentality when it concerns our health and wellness. As they say, 'No pain, no gain'. If we do not use our muscles, we lose them. We have to invest in our health so we can have better immunity and resistance to viruses. If we do not make active changes in our lifestyle now, it'll be too late as we grow older.