Welcome to the world of crop tops, where style and comfort converge with fashion. Crop tops are a chic and functional addition to your collection that can be worn for a variety of occasions, including a day at the beach, a music festival, or just a stroll around the city. But with so many different styles, materials, and lengths available, choosing the crop top that best suits your body type can be difficult.
Regardless of your body type—apple, hourglass, pear, or rectangle—we have specific advice for you on how to love your shape and wear that crop top with confidence.
Apple Shape
If your physique is in the shape of an apple, your midsection is probably fuller and your waistline is probably less defined. The secret to selecting a crop top that enhances your form is to minimize your stomach while highlighting your best features.
a. Choose Crop Tops That Are Longer – Choose crop tops that fall just below your natural waist. These looks lengthen your silhouette and conceal any problem areas while still giving you a fashionable appearance.
b. V-necklines and off-shoulder tops – These necklines draw attention away from your stomach and focus it on your shoulders and collarbones. They produce a harmonious and attractive appearance.
c. High-waisted Bottoms – To accentuate your waistline and give the appearance of an hourglass figure, wear your crop top with high-waisted slacks or skirts.
Sweater-Knit Off-the-Shoulder Top
Choose crop tops that are somewhat longer and hit at the narrowest region of your waist if you have an apple-shaped physique. To establish balance, pair with high-waisted bottoms. To define your waist, accessorize with statement earrings, long necklaces, and wide belts. For more covering and style, think about layering with a kimono or loose cardigan.
The Hourglass Shape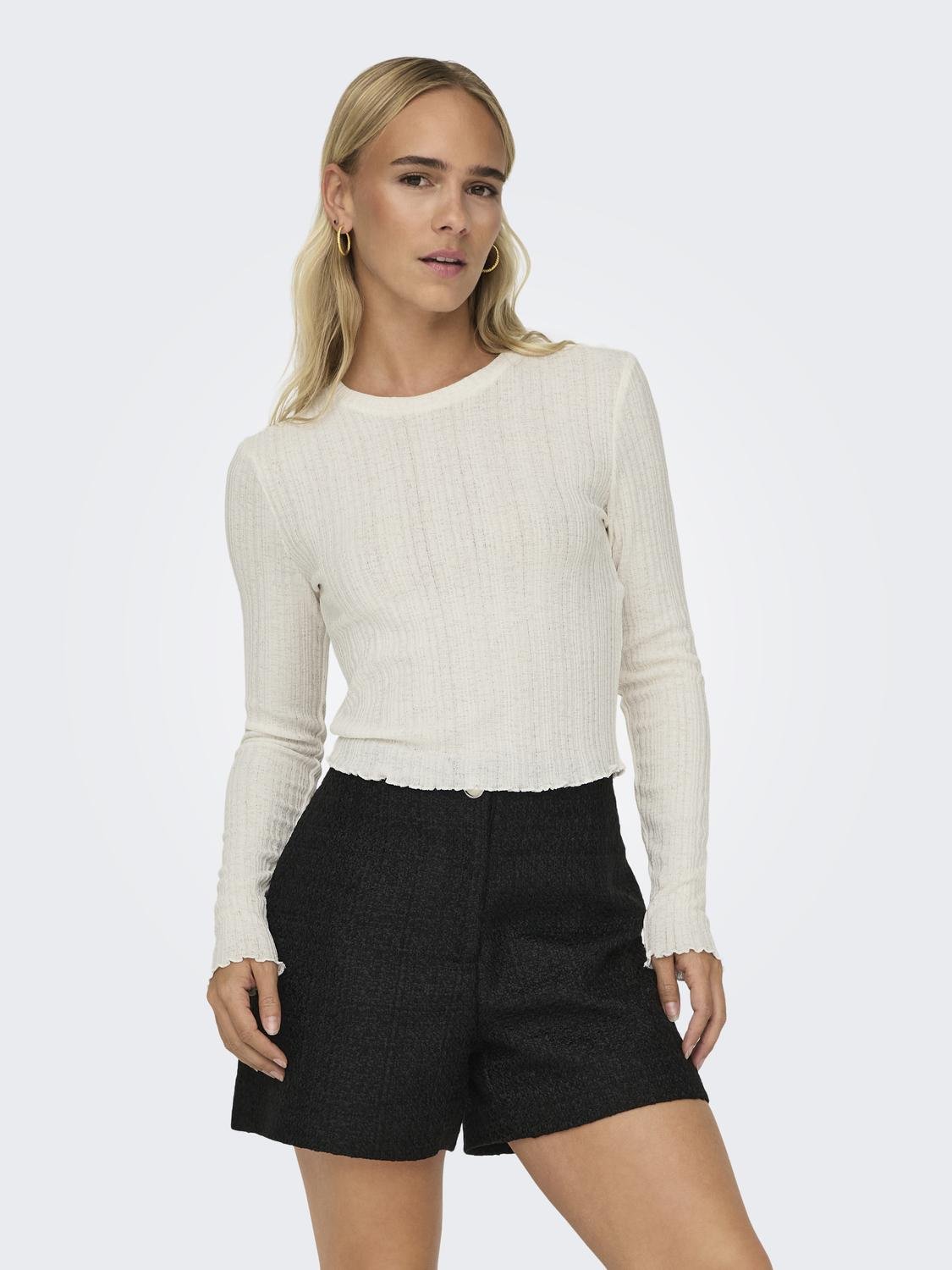 If you have an hourglass shape, dressing up is a breeze! Your waist is delineated, and your hips and breast are proportionately shaped. The following advice will help you highlight your natural curves and show off your figure.
a. Fitted crop tops – Choose fitted crop tops to draw attention to your waist and showcase your hourglass figure. Look for tops with elastic fabrics that perfectly accent your curves.
b. Wrap Crop Tops – Wear crop tops in the wrap style to draw attention to your waist while adding a fashionable and feminine touch.
c. Avoid large Crop shirts – Although they may be fashionable, large shirts can obscure your lovely curves and make your form appear less defined. Stay with looks that draw attention to your waistline.
The Pear Shape
If you have a pear-shaped body, your hips are wider than your shoulders, and you might have a smaller bust. The goal here is to balance your proportions and draw attention upward to create an illusion of broader shoulders.
a. Boat Neck or Scoop Neck Tops – These necklines widen your shoulders and balance out your hip area, creating a more symmetrical appearance.
b. A-line or Flared Crop Tops – Look for crop tops that gently flare out from the bust down to the waist. This style skims over your hips, providing a flattering look.
Deep Scoop Neck Crop Top in Ice Blue Fashion
c. Bright and Eye-catching Patterns – Draw attention upward with bold patterns or vibrant colors on your crop top, diverting the focus away from your lower half.
The Rectangle Shape
Your breast, waist, and hips are practically equally spaced if you have a rectangle-shaped figure. Here, you want to provide the appearance of curves and give your form some depth.
a. Ruffled or frilled Crop Tops – Choose crop tops with ruffles or frills at the bust or neckline. These small embellishments give the appearance of a bigger breast by adding fullness.
b. Belted Crop Tops – Opt for crop tops with built-in belts or wear them with a belt around the waist. This gives you a curvier image and helps define your waistline.
c. Layering – Try layering by covering your crop top with a cropped blazer or cardigan. Your silhouette gains depth and dimension as a result.
Cropped tops can provide curves for ladies with rectangle-shaped bodies. To give the appearance of curves, choose clothes with ruching or a waistband that cinches. Combine with high-waisted bottoms to make your legs appear longer. To create dimension and define your waist, accessorize with layered necklaces, striking earrings, and belts.
The Inverted Triangle Shape
Your shoulders will be wider than your hips if you have an inverted triangle form. The secret is to maintain proportion and detract from your upper body.
a. Halter or V-Neck Crop Tops – By directing attention downward, these necklines lengthen your neck and give you a more balanced appearance.
Halter Neck Rib Crop Top Black
b. Dark Tops – When worn with lighter bottoms, tops in darker hues can help reduce the appearance of broad shoulders.
c. Choose bottoms that add volume to your hips to create a more proportionate profile, such as a-line skirts or palazzo pants.
Choose crop tops that increase the volume in your lower half if you have an inverted triangle body type. To balance your proportions, choose skirts with an A-line or flared hem. To bring attention downward, accessorize with long necklaces, bold earrings, and thick bracelets. Wide belts and bottoms with high waists can give the appearance of a more defined waist.
With these tips, you can confidently select the ideal crop top and style it to fit your particular body type. Having the knowledge about what your body type is and how you can make clothes work for your body is a gem! Remember that fashion is about embracing and emphasizing your own beauty rather than adhering to societal norms.
With this practical advice, you won`t be afraid to wear crop tops. Try new things, enjoy yourself, and let your sense of style reflect who you are. So go out there and experiment with different crop top designs while embracing the confidence that comes with knowing you look great no matter what you're wearing. Happy fashioning!