Standout Pieces Adore Me: Fill out a quiz that addresses your lingerie style preferences and fit details, and you'll be guided into your own personal Adore Me "showroom." Your first bra and panty set is discounted to 25, and there is a large range of styles that are plenty sexy but also wouldn't be totally out of place in your weekday under-wardrobe. For special occasions, there are corsets, babydoll sets, and more priced at just 40. Extra points for offering sizes up to 42G.
Agent Provocateur: Incredibly luxe — and equivalently spendy — fantasy gear at your disposal. Shop here for garter belts, corsets, and kimonos, as well as accessories like masks, satin gloves, and inexplicably handsome whips. Anya Lust: Lust is right there in the name, and this is where to turn when you're ready to throw down on some really, really special pieces. The entire site is dedicated to luxe lingerie, covering everything from bras and bottoms to robes, garter belts, and teddies. Fleur du Mal: Fleur du Mal definitely errs on the side of very sexy — think sheer lace bras and panties, silk tap shorts, garters, and even velvet thongs. It's also a bit expensive (this bra, for example, is 95), but the brand does always run a sale.
On top of lingerie, it also makes boudoir-inspired clothes, like silk slip dresses and bodysuits. Harlow & Fox: The lingerie at Harlow & Fox is designed for women who are between a DD and G cup, which can be frustrating to shop for. If you're a fan of vintage-style bras and underwear, this is definitely the spot for you (check out the Augusta Jet and Eleanor Hazel collections for proof). Hopeless: This brand describes itself as "dark and modern," which translates to stuff that feels alt and S&M without being all 50 Shades of Grey about it. The brand leans heavy into harnesses, so there are a lot of strappy bralettes and bodysuits, suspenders, and peek-a-boo "knickers" to shop.
Inspire Psyche Terry: Every product sold by this new brand comes in all sizes, from small to 4X — a boon to plus-size women who want cute but affordable lingerie and sleepwear. The collections span from everyday to bridal, with chemises, robes, babydolls, bras, thongs, and boy-short options. L'Agent: Like a present from the lingerie gods (goddesses?), Agent Provocateur launched this lower-priced line that's undoubtedly sexy, but a little more playful. Bows, florals, and sheer polka dots are the kinds of details you'll find here, but done in a way that's more "fuck yeah I love being a girl" than pandering gender norms. Subscribe to the Racked NewsletterLa Perla: So beautiful and so many dollars: This is the breathtaking stuff that might turn you into "a lingerie girl." Here, find eyelash lace-topped bustiers and honeymoon-appropriate babydolls to celebrate your power couple status.
Lonely: This inclusive, New Zealand-based label makes clothes and swimwear too, but the lingerie is far and away the speciality. Expect pieces that are feminine and pretty but with an edge; there's all kinds of vintage-inspired lace, high-waisted options, and sexy strappy detailing. Oh la la Cheri: This Miami-based lingerie brand comes with a self-described "French flaire," so expect a lot of very sexy stuff: lace, open bras, balconettes, garters, mesh bodysuits, and more. The label also recently launched a "Curve" section, so you can shop a full range of sizes all in one place. Everyday& Other Stories: The Swedish fast fashion brand has a surprisingly great selection of affordable bras, panties, and bodysuits, all in very on-trend colors, materials, and patterns (like color-blocking and all kinds of lace).
But it's definitely a collection tailored to small-breasted women; soft bra options abound, and sizing for underwire pieces only goes up to 34D.Aerie: If you're looking for affordable, comfortable, and widely available undies and loungewear, don't underestimate American Eagle's Aerie. We think it's some of the best mall brand underwear, and we're grateful for the fact that the brand uses models that look much closer to real life than most lingerie brands out there. Baserange: Fashioned in bamboo jersey with retro-leaning silhouettes, this is lingerie that's sexy because it's about your body as is, not any sort of pushed-up, cinched-in version. Most of the simple styles come in versatile shades like navy and off-white. Brook There: This Portland, Maine-based indie label makes pretty, everyday underwear sets in all organic cottons and silks and bright, color-blocked solids. The T-shirts, slips, and camisoles are worth checking out, too.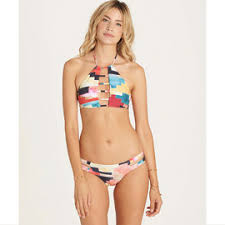 Blue Stocking Boutique: This shop's tagline is "underwear for everyone," with a mission to "empower people who have been marginalized by the mainstream lingerie" and a strong focus on the LGBTQIA+ community. The selection here is quite wide, ranging from T-shirt bras to binding briefs. Lively: Lively is one of those brands that might be too millennial for its own good (the customer service chat greets you with "Hey Babe!"), but it does put out comfortable and cute soft bras (including some for bigger boobs!) and underwear in girly prints and tomboy-ish stripes. You earn points that can go toward Lively product when you make a purchase or refer a friend, à la Glossier, which is great if you're looking to stock up. Madewell: The reliably relaxed brand launched an intimates section earlier this year, to the delight of loyal Madewell shoppers everywhere. The collection is basically Madewell's riff on the indie bralette trend, but for half the price (most bras are around 30, while underwear costs around 14). Expect lots of colorful options in cotton, lace, and mesh, but not much in the way of extended sizing.
Negative Underwear: This NY-based women-designed brand is a little pricey for basics (underwear starts at 28), but everything is super comfortable and well-designed. Negative also offers custom embroidery and makes perfect tees, so we're sold. Nubian Skin: Finally, a brand that makes so-called "nude" underwear in shades that work for women of color. Nubian Skin's bras, undies, and hosiery come in a range of brown and tan hues and styles, from plain, smooth-under-T-shirt bras to lacy sets. ThirdLove: Perfect fit is no joke here. In addition to offering half-cup sizes (!!!), ThirdLove also has a "Fit Finder" quiz that asks a bunch of questions about how your current bra feels to help you find a better fit. White Rabbit: This brand makes some of the most comfortable everyday underwear thanks to its stretchy lace and bamboo fabrics that feel a lot softer and are more durable than cotton.
The underwear line includes thongs, "cheekinis," bikinis, and boy shorts, and the label just launched bras, too. Widest SelectionAnthropologie: Spanning from recognizable, high-end names (Stella McCartney, Fleur du Mal) to affordable stalwarts (Eberjey, Elle Macpherson) to some very cool brands in the middle you've probably never heard of before (Natori, Fortnight), the selection at Anthropologie is both surprisingly robust and just what you'd expect: sweet, feminine, and well-made. Bare Necessities: As the name suggests, pretty much all first layers are covered here: underwear, activewear, swimwear, and shapewear. There are more than 200 brands on the roster, offering everything from Wacoal minimizers to Bracli pearl thongs. Hips & Curves: There's a lot to shop at Hips & Curves: bras, shapewear, leather, hosiery, pajamas, and even costumes (like the standard Santa garter belt), all in plus-size. Prices are all on the affordable side, with special deals like two bras for 42 and three panties for 36. Journelle: A broad selection of designers, price points, and styles makes this NYC-based boutique a must-shop. To cut through the massive assortment, there are helpful edits like "best-selling bras under 70" and "top 12 thongs."
Net-a-Porter: The luxury e-tailer stocks everything from Eberjey and Hanky Panky to designer lingerie from Stella McCartney, Hanro, Eres, and more (the list goes on). There's also a great selection of bridal lingerie, should you be in the market. Oui Hours: This entirely-lingerie site has a massive selection of intimates ranging from fancy bras to everyday shapewear. There's a large range of price points and styles covered, including a dedicated bridal section (with registry). A magazine component offers shoppable editorials, bedroom Spotify mixes, and more. Shop Undone: If you're into the whole minimalist, independent label underwear thing, you're going to love Undone. It basically carries every cool indie lingerie brand — Land of Women, Baserange, Pansy, and several other boutique favorites are all represented here.
One huge plus: The website shows models of all sizes without any major retouching, so you can actually see what the underwear will look like without perfect lighting. True & Co.: True & Co. starts you out with a quiz to find your size across a bevy of brands — Calvin Klein, Natori, and True & Co.'s own Uniform line among them. From there, it's easy to see not only what styles will likely fit you best, but also which size from each brand you should order. Urban Outfitters: UO has a surprisingly robust lingerie section, especially for women with smaller cup sizes. A real highlight here is the retailer's in-house brand Out From Under, which basically makes a perfect version of every style of undies and bralette you could ask for. Yandy: Yandy can be kind of ridiculous (need any Harry Potter-themed underwear? Because it's there, LOL), but there's a hell of a lot to choose from. Shop everything from sports bras to crotchless panties all in the same place; don't overlook the affordable everyday bras and underwear hidden among the uber-sexy lineup (and note the extended size options).