The 40's vintage dresses are back with a bang gain, spreading its magic all over. If you are still thinking about updating your closet with some vintage outfits then start to act as vintage is still in style and being loved by everyone. We are making your hard work of choosing the best vintage dresses easy for you as in this article, we have mentioned some amazing vintage dresses which need to be added to your closet.
1. Gucci Ribbon Detailed Tweed Dress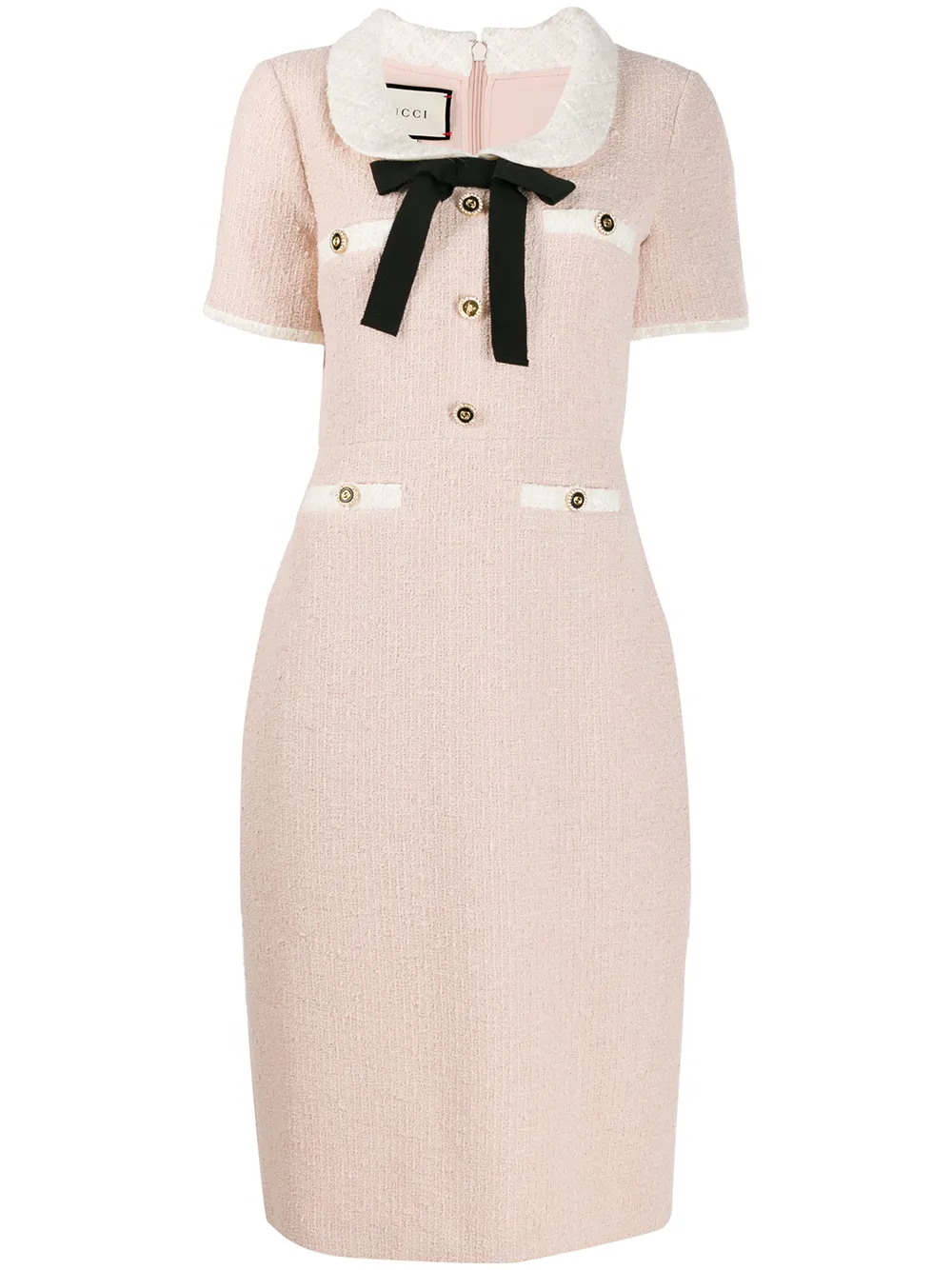 This sweet little vintage dress is a light pink coloured and soft fabric dress that is made of cotton to add to your comfort. This dress comes with a white peter pan collar and short sleeves and a black ribboned bow right in the front. The back zipper system makes it easy to wear too. This dress extends up to your knees and has golden GG buttons.
2. Floral Print Square Neck Dress
This black vintage floral print dress is a skinny fit dress that has tiny sleeves and reaches the mid-thighs. The fabric used is polyester which allows it to fit you to the skin. The square neck on this dress is what brings class to this amazing black floral dress.
3. AE Long Sleeve Square Neck Mini Dress
This pink, floral-patterned dress is a pure viscose made vintage dress that has a button-up style resembling the 40's vintage dresses. This vintage dress is mini length dress with long, puffed sleeves. The square neck adds to the classy look of the vintage dress and the skinny fit makes it look amazing.
4. Plus Size Off The Shoulder Plaid Retro Dress
This amazing vintage dress gives the retro look which you always wanted to create. Made for plus size women, this off the shoulder dress has a high waist checked skirt design which can be buttoned up using the attached belt. The white off the shoulder top design has a ruffled look with short and puffed sleeves. This dress can extend till below the knees.
5. Plus Size Velvet Lace Hem A-line Retro Dress
This frock size vintage dress is a cute outfit designed for plus size women. The all-blue dress with short sleeves and a collar has a white, ruffled upfront design with a button line. The dress also contains a white belt along the waist and a heart-shaped broach right on the middle of the belt. The edge of the dress is lined with white lace making the dress a perfect vintage one.
6. Vintage Titanic Style Dress in Gold by Natata
This amazing recreation of the titanic style dress in gold is the ultimate vintage dress that needs to be added to your closet. This vintage dress by Natata has a scoop neckline and has a short sleeve. This dress comes with a pure crepe lining and a pure nylon outer layer. Further, it reaches right above your ankle.
Do not hesitate anymore and get your vintage dress now. The few dresses mentioned in this article are the top choices of dresses which you must think of purchasing for updating your vintage closet.