If you ever had any doubts that Rihanna loves her fans, well, you shouldn't have them. The designer, singer, and actor isn't just multi-talented. She's also devoted to her fans, and her new Savage x Fenty lingerie color is all about showing them just how much she loves them.
While Fenty Beauty may be one of the most easily accessible creations from Rihanna (it is in Sephora, after all), her Savage x Fenty lingerie is yet another gorgeous product from the star. Like everything she does, Rihanna's lingerie had a message. Not only is it a size inclusive brand, but it also features a full range of nudes for all skin tones. Rihanna is an equal opportunity undies provide, y'all! From traditional lingerie like teddies to classic lounging bralettes, the line has it all, and it's only continuing to expand. This time, it's in new colors.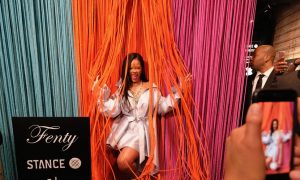 The brand just launched shades Rose Quartz, Dessert, Military, and lastly Navy. One of these new shades is particularly special, though, and if you're a hardcore Rihanna fan, you probably already know which one it is. The new Savage x Fenty navy pieces come in the hue as an homage to her most loyal fans.
In a post featuring pieces from the Black Widow collection of Savage x Fenty, the brand explains that they've, "got something new for the Navy." What does this mean? Well, like most celebrities, Rihanna's fans have a name, and it just so happens be the Navy. Think about Ariana Grande and her Arianators or BTS and the BTS Army. For Rihanna, it's the Navy. Now, Savage x Fenty has a color just for them.
In fact, Rihanna even took to her personal Instagram account to put out a call to the Navy asking, "Where my Navy at?! This shade's for you!!" Talk about major love to her fans, right?
When can you shop the new navy Savage x Fenty launches? Good news! They're live today, Aug. 16. The new colors (including the navy hue) are part of the brand's fall launches, and they're already available for purchase, and there's plenty to go around for everyone.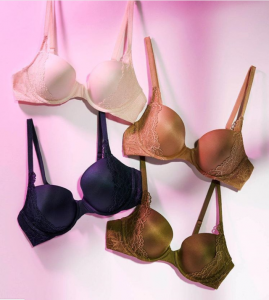 The new colors come in multiple styles on the Savage x Fenty website. From classic bikini panties and wireless bralettes and tee shirt bras to some of the sexiest lingerie that the brand offers, you can get nearly every staple piece from the star's collection in the new hue that honors her fans.
As for the prices, nothing has changed on that front. The new Savage x Fenty pieces range from $14.50 to $54 just like the brand's already existing items.
If you want to wear your Rihanna Navy pride underneath your clothes (or on their own because this stuff is gorgeous), head over to the Savage x Fenty website now. Even if you don't need new items, the star did make this new hue just for her fans, and it'd be a shame not to take advantage of such a lovely gesture, right?